When:
February 24, 2014 @ 7:00 pm – 9:30 pm
Where:
St. Anthony Park Library
2245 Como Ave.
Saint Paul
Contact:
Alayne Hopkins
651-366-6488
E-mail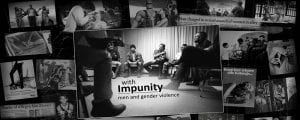 ---
Women's Human Rights Film Series
"With Impunity: Men & Gender Violence"
Monday, February 24
Beliefs about manhood that allow men to exploit and use violence against women are ingrained in our culture. "With Impunity" engages the thinking of leading historians, sociologists and practitioners to examine our past, cultural realities and options for ending gender-based violence. A discussion follows the film. Presented by The Friends and The Advocates for Human Rights.