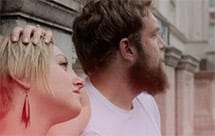 Doors 6:30  |  Trivia 7:15  | Music 8:15
Communist Daughter was founded in 2009 by singer/songwriter Johnny Solomon – two years after the break up of his band, Friends Like These. He first assembled a band of Twin Cities musicians: bass player Adam Switlick, formerly with Friends Like These; keyboard player Jonathan Blaseg; and drummer Steve Yasgar, formerly of Swiss Army. They recorded a four-song demo that included the track "Not The Kid," and later added guitar player Al Weiers (Faux Jean) and singer Molly Moore. In September 2013, Molly Moore and Johnny Solomon married.
Come out to the Library for an intimate evening of acoustic music with Johnny and Molly (and – possibly – other friends).
Music Trivia by Jeff Kamin. Mix it up and win great prizes!
Show your library card and 21+ ID to get a free beer from our sponsor, Summit Brewing Company
Communist Daughter: Northern Lights on tpt's "MNOriginal"