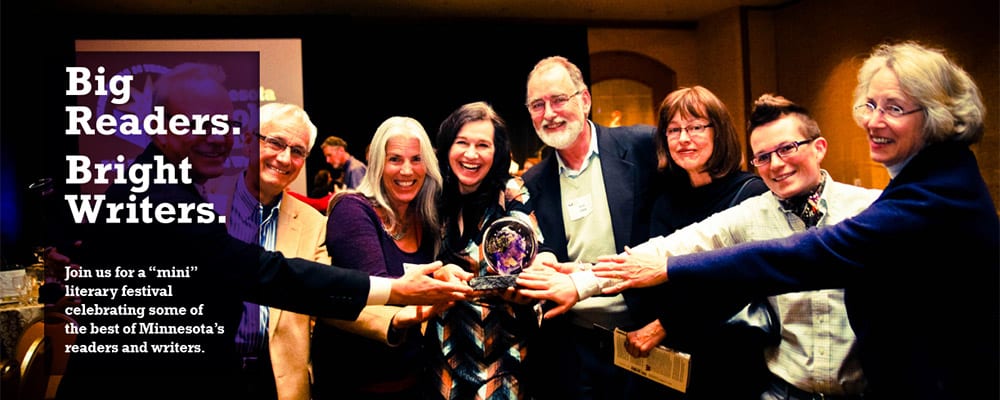 A Mini Festival of Minnesota Stories
Join us for a "mini" literary festival celebrating some of the best of Minnesota's readers and writers, October 25 through 29, 2013.
Story City: A Live Storytelling Event
Friday, October 25, live music and social at 6 p.m., program at 7 p.m.
Black Dog Coffee & Wine Bar, 308 Prince Street, Saint Paul
Story City and the Book Awards present LOST. Have you ever found yourself out of familiar territory? Forgotten where you came from or where you're going? Tell us about it! We're looking for storytellers (anyone from professionals to barstool soothsayers) to share the Story City stage with local authors. To submit, send a few sentences about a true "lost" story from your life to storycitymn@gmail.com by October 17. In the meantime, get ready to lose yourself (in a good way) to a night of stories, a celebration of Minnesota authors, and plenty of toasts to being found.
Story City is a live storytelling event that migrates around Minneapolis and Saint Paul. They promote oral tradition, self-expression, and stories of the cities we love through live memoir. Each event has a different theme, and storytellers have up to seven minutes to recount an unscripted tale inspired by the theme live on stage. Collaborating in past shows with organizations such as The Loft Literary Center, HUGE Theater, Revolver, and Paper Darts Magazine, Story City is proud to say that LOST will mark its 11th event.
---
Reading & Discussion: Geoff Herbach, "I'm With Stupid"
Friday, Oct. 25 at 7 p.m.
Red Balloon Bookshop, 891 Grand Avenue, Saint Paul
Felton Reinstein has never been good with stress. Which is why he's seriously freaking out. Announcing his college choice on national TV? It's a heart attack waiting to happen. Deciding on a major for the next four years of his life? Ridiculous! He barely even knows who he is anymore without football. And so…he embarks on The Epic Quest to Be Meaningful.
When 2013 Minnesota Book Award winner Geoff Herbach is not writing books, he teaches writing at Minnesota State, Mankato. He is the author of Stupid Fast and Nothing Special.
---
Debra Frasier: Publication Party for "SPIKE: The Ugliest Dog in the Universe"
Saturday, October 26, 2 p.m.
Red Balloon Bookshop, 891 Grand Avenue, Saint Paul
When Spike, the winner of the Ugliest Dog in the Universe contest, is abandoned by his owner, the boy next door is determined—against all odds—to adopt him. Things look grim until Spike foils a neighborhood catnapping plan and saves the day!
Debra Frasier is the author and illustrator of the picture book classic, On the Day You Were Born. Her other books include Out of the Ocean, winner of the Minnesota Book Award for Children's Literature, and A Fabulous Fair Alphabet. She lives in Minneapolis and offers an award-winning website for teachers and families at www.debrafrasier.com. Explore the interactive site, watch the book trailer and enjoy other fun videos today!
---
"Soda Shop Salvation: Recipes and Stories from the Sweeter Side of Prohibition" by Rae Katherine Eighmey
Saturday, October 26, 2:30 p.m.
Cooks of Crocus Hill, 877 Grand Avenue, Saint Paul
Get ready for holiday entertaining with foods and drinks that tell a story. Award-winning author and cook Rae Katherine Eighmey demonstrates surprisingly delicious vegetarian dishes from World War I food conservation meals, followed by some "intoxicating" delights from the "Sweeter Side of the Prohibition" from her newest book, Soda Shop Salvation. Taste the foods that made history and hear their legendary stories.
Eighmey was a 2011 finalist for the Hognander Minnesota History Award for Food Will Win the War and a 2009 Minnesota Book Award finalist for Potluck Paradise.
---
Brian Farrey: Publication Party for "The Shadowhand Covenant"
Sunday, October 27, 2 p.m.
Red Balloon Bookshop, 891 Grand Avenue, Saint Paul
With more twists and turns than a palace vault and one unforgettable family of thieves, this second book in Brian Farrey's epic "Vengekeep" trilogy will leave you breathless. The Vengekeep Prophecies was termed a "rich fantasy" (Publishers Weekly, starred review) featuring a family of thieves that "couldn't be more likable" (Kirkus Reviews).
Brian Farrey is the 2012 Minnesota Book Award winner for his young adult novel, With or Without You.
---
Panel Discussion: Writing Minnesota
Monday, October 28, 7 p.m.
Saint Anthony Park Library, 2245 Como Avenue, Saint Paul
Minnesota is the land of 10,000 lakes and even more stories! Join a distinguished panel of Minnesota Book Award-winning and finalist authors for "Writing Minnesota," moderated by Ann Regan, Editor in Chief of the Minnesota Historical Society Press. Authors include Cary Griffith (Opening Goliath, Lost in the Wild); Dave Kenney (Northern Lights, Honor Bright); William Swanson (Dial M, Black White Blue); and Diane Wilson (Spirit Car, Beloved Child).
---
Panel Discussion: How We Read Now
Tuesday, October 29, 7 p.m.
Micawber's Books, 2238 Carter Avenue, Saint Paul
In the age of lightning-fast and ever-changing technology, and with so many platforms for receiving information and literature, has the way we read changed… or the way we think? Join in a lively conversation with members of the Twin Cities' literary community, moderated by MPR News arts reporter Marianne Combs. Panel members include Hans Weyandt, co-owner of Micawber's Books and editor of Read This!; Chris Fischbach, publisher of Coffee House Press; Patrick Thomas from Milkweed Editions; Katie & Guy Eggers, Thirty Two Magazine editors; and Laurie Hertzel, Star Tribune books editor.
---
Series made possible through funding from the City of Saint Paul Cultural STAR program and with the generous support of  The Friends of the Saint Paul Public Library, the Saint Paul Public Library, Cooks of Crocus Hill, Micawber's Books, Minnesota Historical Society Press, and Red Balloon Bookshop. The Minnesota Book Awards is a year-round, statewide outreach program connecting readers to the work of Minnesota's best authors. For more information, explore this website or call 651-366-6497.