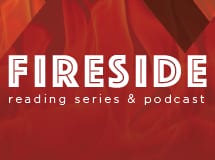 Faith Sullivan (2016 Fireside Reading Series)
Faith Sullivan returns to kick off the 22nd annual Fireside series with a reading from her new novel, Good Night, Mr. Wodehouse, which celebrates the strength and resourcefulness of independent women, the importance of community, and the transformative power of reading.
Nell Stillman's road is not easy. When her boorish husband dies soon after they move to the small town of Harvester, Minnesota, Nell is alone, penniless yet responsible for her beloved baby boy, Hillyard. In the face of nearly insurmountable odds, Nell finds strength in lasting friendships, and in the rich inner life awakened by the novels she loves.
Sullivan is the author of seven award-winning novels, including Good Night, Mr. Wodehouse, Gardenias, The Empress of One, and The Cape Ann. A "demon gardener, flea marketer, and feeder of birds," she is also an indefatigable champion of literary culture and her fellow writers, and has visited with hundreds of book clubs. Born and raised in southern Minnesota, Faith Sullivan lives in Minneapolis with her husband.
Podcast: Play in new window | Download