The tipping point of impending doom
Each day leading up to the April 16 announcement of the Minnesota Book Awards, and in collaboration with community editors from the award-winning Saint Paul Almanac, we highlight one of the thirty-two finalists. Today we feature 2016 Genre Fiction finalist: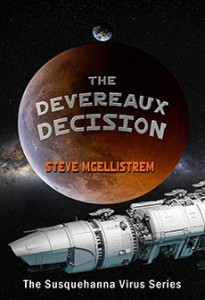 The Devereaux Decision by Steve McEllistrem
Published by Calumet Editions
Category Sponsor: Macalester College
A group of fanatics has created a virus that could wipe out humanity. Retired secret agent Jeremiah Jones and the reformed cadets Curtik and Zora, who almost destroyed the world while under a compulsion, somehow have to stop the terrorists before the virus reaches a tipping point. The problem is, none of them know where to find Susquehanna Sally. Complicating matters, the genius Walt Devereaux has been stricken by the virus and a decision must be made — should they let him die, or do whatever is necessary to save his mind? From Indonesia to London to Washington D.C., the race is on to save the world. Meanwhile, a Chinese spaceship approaching Mars and the Escala colony refuses to acknowledge all efforts to communicate with it. Who is on that ship? And are their intentions hostile?
Author Bio: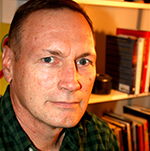 A native to Minnesota, Steve McEllistrem has been writing and editing for more than twenty years. He hosts Write On! on KFAI radio, interviewing local, national and international authors. McEllistrem also has published nonfiction works such as Higher Education Law in America and Deskbook Encyclopedia of Employment Law.
An Excerpt from The Devereaux Decision:

Sally23 longed to stay in the warm pub, but she'd already received one message from Sally2 ordering her to return to base. Seated at her table, Reg and Murph, her fellow graduate students, continued their good-natured argument over what the limits of science ought to be. As if it mattered anymore. As if their lives would not end soon. She didn't tell them that, however. They had to remain ignorant.

"I don't think you appreciate just how significant this development is," Murph said, "what this can do for the sick and dying."

"I understand perfectly, you gormless sod," Reg replied, a smile mitigating the insult as he gestured to the tablet between them on the table. "You're talkin' about playin' God. These people are messin' with things they shouldn't be messin' with."
Reviews:
"An accurate title, The Devereaux Decision lifts the dramatic sci-fi epic to new heights."—Ismail Khadar, Saint Paul Almanac Community Editor
"…a searingly vivid portrayal of a very possible future."—Jeffery Morris
"McEllistrem writes gripping, action-packed scenes with eye-popping tech and well-imagined future combat."—Lyda Morehouse
"The Devereaux Dilemma continually hints at questions environmental ethicists have been asking for decades."—Maryann Lesert
"The clean style of this book successfully juggles several plot lines. The issues faced by the engaging characters are plausible, sometimes provocative outcomes from where society is today.  It kept me thinking long after I'd put the book down."—Minnesota Book Awards Preliminary Round Judge
"McEllistrem uses the space opera genre to explore meaty ethical issues surrounding technology and society. Never 'dumbing-down' the science and its implications, he also keeps the action coming and the pages turning."—Minnesota Book Awards Preliminary Round Judge
---

Award winners will be announced at the 28th Annual Minnesota Book Awards on Saturday, April 16, 2016 at the Union Depot in Saint Paul.
The evening features a Preface Reception with complimentary passed wine and cash bar, author meet-and-greet, book sales and signing; the Awards Ceremony with live music, celebrity presenters, artisan cheese plates and breads, complimentary wine and lemonade, with emcee Stephanie Curtis of MPR; and the Epilogue After-Party with complimentary champagne, sumptuous desserts, and additional live music. Tickets now on sale, or click here for more information.
---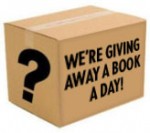 Today's winner:  Laurel Lapore. (We'll be in touch via email, and arrange getting the book to you!)
Want your chance to win? Subscribe to our email to get news and program updates sent directly to your inbox, and be automatically entered to win.