Each day we highlight one of the 36 finalists leading up to the April 8 announcement of the Minnesota Book Awards, presented by Education Minnesota. Today we feature 2017 Children's Literature finalist: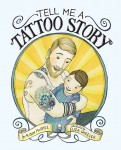 Tell Me a Tattoo Story by Alison McGhee, illustrated by Eliza Wheeler
Published by Chronicle Books  
Category Sponsor: Books for Africa  
Alison McGhee's newest children's book begins with a nightly ritual: a little boy asks his dad to tell him the story behind each of his tattoos and together they go on a beautiful journey through family history. A left-forearm tattoo is a reminder of his father's wisdom: "Be Kind." A design of flowers, fireworks, and a Ferris wheel brings the dad back to the day he met a pretty girl with a wonderful smile. A dragon reminds Dad of his mother reading him The Hobbit, while a sun and small mosque recall an agonizing soldier's life in Afghanistan. As the conversation progresses, we see clearly the love behind each tattoo memory and the wonder the boy feels at hearing his dad's stories again and again. Eliza Wheeler's fine-lined illustrations, done in India ink with dip pens and watercolors, beautifully complement this tender ode to all that's indelible—ink and love.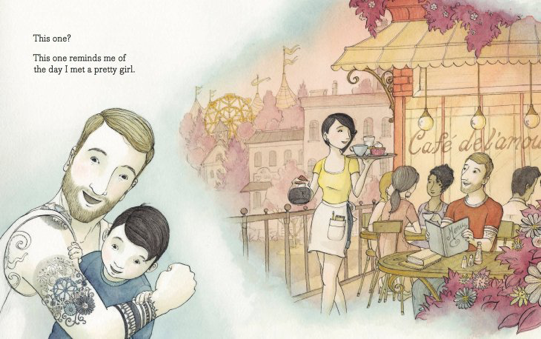 About the Author
Alison McGhee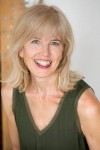 writes for all ages in all forms, from novels to poems to books for children. Her Pulitzer Prize-nominated novel Shadow Baby was a Today Show Book Club pick, and her picture book for adults, Someday, was a #1 New York Times bestseller. Her work has been translated into more than twenty languages, and she has won dozens of fellowships and awards, including four Minnesota Book Awards, the Geisel medal, a MacDowell residency, and several American Library Association awards. She is a professor of creative writing at Metropolitan State University. Follow Alison McGhee on Facebook and Twitter.
Eliza Wheeler is the author-illustrator of Miss Maple's Seeds, which debuted on the New York Times Best Seller list. She also illustrated Holly Black's Newbery Honor winning novel Doll Bones, Pat Zietlow Miller's picture book Wherever You Go, Mara Rockliff's picture book The Grudge Keeper , and Tricia Springstubb's new middle grade series Cody. Eliza received the Society of Children's Book Writers and Illustrators Grand Prize Award for best portfolio at the 2011 SCBWI National Conference. Eliza is a northern Wisconsin native currently living with her husband in Los Angeles, California.  Follow Eliza Wheeler on Facebook and Twitter.
Rave Reviews:
"Here, tattoos are emblems of personal history, as a father describes to his son what inspired each one… lush, detailed images beautifully dramatize each moment from the father's past." — The New York Times
"A fresh, contemporary take on the bond between images, storytelling, and, yes, hipster dads." — Booklist
"Parents with or without tattoos will be touched by the heartwarming tale about sharing your past with your children."— Real Simple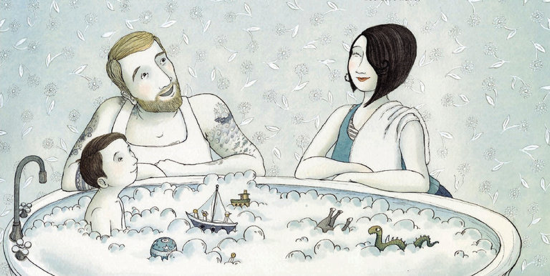 Beyond the Book:

Listen to Alison McGhee discuss the book in this beautiful interview with Nick Patton of The Picturebooking Podcast.
Read Alison McGhee's blog where she features real tattoo stories.
Explore this story in the Pioneer Press in which McGhee tells about her son's first tattoo.