36 Books in 36 Days: Stealing the Countess
Each day we highlight one of the 36 finalists leading up to the April 8 announcement of the Minnesota Book Awards, presented by Education Minnesota. Today we feature 2017 Genre Fiction finalist: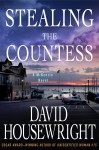 Stealing the Countess by David Housewright
Published by: Minotaur Books/St. Martin's Press
Category Sponsor: Macalester College
The brazen theft of a Stradivarius violin known as the Countess Borromeo, valued at $4 million, provides Rushmore McKenzie with some ethical challenges in Housewright's entertaining 13th mystery featuring the unlicensed St. Paul, Minn., PI (after 2015's Unidentified Woman #15). Maestro Paul Duclos, whose violin was stolen during a visit to his hometown in Wisconsin from the bed-and-breakfast where he was staying, turns to McKenzie for help. Unfortunately, the musician's insurance company refuses to pay a reward for the violin's return until someone has been convicted for taking it. Duclos asks McKenzie to play middleman and offer $250,000 for the safe return of the Countess, no questions asked. In accepting the assignment, McKenzie knows he's guilty of committing a felony. — Publisher's Weekly
A reformed newspaper reporter and ad man, David Housewright is the recipient of an Edgar Award from the Mystery Writers of America (Penance) and three Minnesota Book Awards (Practice to Deceive, Jelly's Gold, and Curse of the Jade Lily). His 19th novel, What the Dead Leave Behind, will be published in June 2017. He has also published a volume of short stories entitled Full House and occasionally teaches courses at the University of Minnesota and the Loft Literary Center in Minneapolis. Housewright was elected President of the Private Eye Writers of America in 2014. Follow him on Twitter and Facebook.
Rave Reviews:
"A Stradivarius goes missing and all hell breaks loose in the thirteenth entry in Edgar-winning Housewright's consistently strong Mac McKenzie series. […] Greatly enhancing the story are the fascinating details Housewright provides on the history and design of these priceless instruments."
—Booklist, starred review
"The whole book is akin to a speeding train, but the last fifty pages especially were devoured at a breakneck speed. I was so excited to see what happened next that I didn't even pause to anticipate or hypothesize." —Angie Barry, Criminal Element
"A stolen violin ends up being one of the strong characters in this cheeky mystery. Its whip-smart tone and Minnesota roots make this a compelling read." — Minnesota Book Awards Judge
Beyond the Book:
Excerpt: Read a sample from the first chapter of Stealing the Countess.
Interview: Housewright discusses his inspiration for the book and his path to becoming novelist in this June 2016 interview with Dawn Ius of The Big Thrill.
Video: Watch Housewright's humorous 2010 Minnesota Book Awards acceptance speech.