36 Books in 36 Days: This is NOT a Cat!
Each day we highlight one of the 36 finalists leading up to the April 8 announcement of the Minnesota Book Awards, presented by Education Minnesota. Today we feature 2017 Children's Literature finalist:
This Is N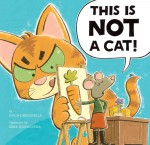 OT a Cat! by David LaRochelle, illustrated by Mike Wohnoutka
Published by: Sterling Children's Books/Sterling Publishing
Category Sponsor: Books For Africa
Using only the five words in the title to tell the entire story, this is the tale of Mouse School, where the first lesson in danger means recognizing a CAT. Miss Mouse's lesson is going as planned until a suspicious-looking character sneaks into the classroom and makes everyone sCATter. But is this intruder really a cat? With simple text and bright, hilarious illustrations, even the earliest of readers will have no trouble mastering this story of suspense, surprise, and humor.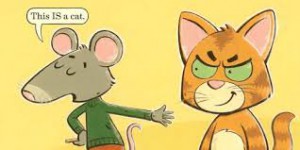 David LaRochelle is a former elementary school teacher who has been creating books for young people for almost 30 years. His previous titles include The Best Pet of All, How Martha Saved Her Parents from Green Beans, and It's a Tiger! When he's not writing, illustrating, or visiting schools across the state, David loves to attend theater (especially "Ten Thousand Things"), play games ("Dominion" is his current favorite), and carve fancy jack-o'-lanterns (which you can view at his website).
About the Illustrator: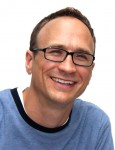 Mike Wohnoutka is the author and illustrator of Little Puppy and the Big Green Monster and Dad's First Day, both Minnesota Book Award finalists. He has also illustrated more than twenty other children's books. Even though Mike was a trouble maker when he was in grade school, and thus gets a little nervous around principals, he still loves visiting schools and talking with students about creating books. Mike lives in Minneapolis with his wife and two children.
David and Mike are delighted to be teamed up again after a collaboration on the book Moo!,winner of the 2014 Minnesota Book Award and the Star of the North Picture Book Award.

Rave Reviews:
"From the author/illustrator team behind Moo! comes another delightful story in which the pictures provide more information than the text….The text repeats only a few phrases but invites kids to emphasize certain words for a lively read-aloud. Children will enjoy looking at Wohnoutka's cartoon illustrations and discovering details that tell the rest of the tale…This one will be a hit both in storytime and in one-on-one sharing." – School Library Journal
"A simple text, comprised of only the words in the title, accompanies illustrations that tell a story abounding with surprises as a mouse teacher is explaining the dangers of cats to her mouse students. The illustrations are rife with fun visual clues and jokes that demand repeat viewings." – MN Book Awards Judge
Beyond the Book:
Belinda Jensen, KARE 11, interviews David and Mike.
Check out this fun storytime activity guide!