36 Books in 36 Days: Designing Our Way to a Better World
Each day we highlight one of the 36 finalists leading up to the April 8 announcement of the Minnesota Book Awards, presented by Education Minnesota. Today we feature 2017 General Nonfiction finalist: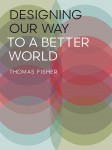 Designing Our Way to a Better World by Thomas Fisher
Published by: University of Minnesota Press
Category Sponsor: College of Saint Benedict Literary Arts Institute and Saint John's University
Designing our Way to a Better World looks at how design thinking can help us address some of the greatest challenges we face more creatively and less adversarially. The book applies a human-centered, asset-focused way of thinking to some of the most dysfunctional aspects of our politics, our economy, our environment, our schools, and our infrastructure, showing how such thinking applies not only to the design of the physical world, but also to the invisible systems and services that are affect us in our daily lives and that are equally within our power to improve.
Thomas Fisher is a Professor in the School of Architecture, the Dayton Hudson Chair in Urban Design at the University of Minnesota, and the Director of the Minnesota Design Center at the College of Design. He was recognized in 2005 as the fifth most published writer about architecture in the United States. He has written 9 books, over 50 book chapters or introductions, and over 400 articles in professional journals and major publications. Named a top-25 design educator four times by Design Intelligence, he has lectured at 36 universities and over 150 professional and public meetings.
Rave Reviews:
"Fisher lays out a compelling case for addressing the 'wicked problems' of our day with the power of design thinking. And he does so in a voice that seeks to appeal to a general audience – not just experts in various fields. Highly recommended reading."– Architecture Minnesota
"Thomas Fisher thinks broadly about design and wants us to do so too. Whether buildings, or cities, prisons, or education programs, or how we plan the life and functions of our society, Fisher would have all of us think hard about what we want and then how to create an object or a system that brings it into being.  This is not an operating manual, but rather an inspirational call to arms, arguing that careful attention to design can improve all that we do." –MN Book Awards Judge
Beyond the Book:
Article: "U expert tells how 'design thinking' can solve society's big problems," by Claude Peck, Star Tribune
Article: "Meet Tom, the Town Crier," by Eric Vrooman, Pollen