36 Books in 36 Days: The Heavens May Fall
Each day we highlight one of the 36 finalists leading up to the April 8 announcement of the Minnesota Book Awards, presented by Education Minnesota. Today we feature 2017 Genre Fiction finalist: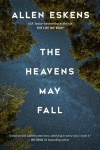 The Heavens May Fall by Allen Eskens
Published by: Seventh Street Books
Category Sponsor: Macalester College
Detective Max Rupert and attorney Boady Sanden's friendship is being pushed to the breaking point. Max is convinced that Jennavieve Pruitt was killed by her husband, Ben. Boady is equally convinced that Ben, his client, is innocent. As the case unfolds, the two are forced to confront their own personal demons. Max is still struggling with the death of his wife four years earlier, and the Pruitt case stirs up old memories. Boady hasn't taken on a defense case since the death of an innocent client, a man Boady believes he could have saved but didn't. Now he is back in court, with student Lila Nash at his side, and he's determined to redeem himself for having failed in the past. Vividly told from two opposing perspectives, the truth about the stunning death of Jennavieve Pruitt remains a mystery until the very end.
Allen Eskens is the USA Today-bestselling author of The Life We Bury, The Guise of Another, and The Heavens May Fall. He is the recipient of the Barry Award, Rosebud Award, and the Silver Falchion Award and has been a finalist for the Edgar Award, Thriller Award, Anthony Award, and a Minnesota Book Award. His debut novel, The Life We Bury, has been published in 16 languages and is being developed for a feature film. Allen has a journalism degree from the University of Minnesota and a law degree from Hamline University. After law school, he studied creative writing in the M.F.A. program at Minnesota State University-Mankato, as well as at The Loft Literary Center and the Iowa Summer Writer's Festival. Eskens grew up on the hills of central Missouri and now lives with his wife, Joely, in out-state Minnesota where he has been a practicing criminal defense attorney for 25 years.
Rave Reviews:
"Eskens keeps the reader guessing as the tale takes several unexpected twists before reaching the satisfying denouement."–Publisher's Weekly
"The Heavens May Fall certainly adds to Allen Eskens' growing reputation as one of the most talented writers in mystery fiction today."  —Deadly Pleasures Magazine
Beyond the Book:
Video: KMSQ "Off 90" featuring Allen Eskens