36 Books in 36 Days: Sachiko
Each day we highlight one of the 36 finalists leading up to the April 8 announcement of the Minnesota Book Awards, presented by Education Minnesota. Today we feature 2017 Middle Grade Literature finalist: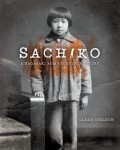 Sachiko: A Nagasaki Bomb Survivor's Story by Caren Stelson
Published by: Carolrhoda Books/Lerner Publishing
Category Sponsor: Education Minnesota
This striking work of narrative nonfiction tells the true story of six-year-old Sachiko Yasui's survival of the Nagasaki atomic bomb on August 9, 1945, and the heartbreaking and lifelong aftermath. Having conducted extensive interviews with Sachiko Yasui, Caren Stelson chronicles Sachiko's trauma and loss as well as her long journey to find peace. This book offers readers a remarkable new perspective on the final moments of World War II and their aftermath.
Caren Stelson lives in Minneapolis and has worked as a teacher, educational consultant, and freelance writer. In 2009, she earned an MFA in Writing for Children and Young Adults from Hamline University. Sachiko: A Nagasaki Bomb Survivor's Story was named a 2016 National Book Award Longlist selection and a 2017 Robert F. Sibert Informational Honor Book. In January 2017, Stelson traveled to Nagasaki to present Sachiko Yasui with her own copy of the book. Stelson continues to write and teach, and she is an active member of the Saint Paul-Nagasaki Sister City Committee.
Rave Reviews:
"While the book contains historical notes, informational sidebars, photographs and maps, most of the narrative is Sachiko's account, magnetic and chilling in its simplicity. Stelson lets Sachiko become the hero of her own story; her quiet survival is an inspiring trajectory of redemption…Stelson has created a book that is both personal and universal, both thoroughly researched and real." – New York Times Book Review
"Author Caren Stelson tells Yasui's story with warmth, sympathy and the vivid details of Yasui's life before and after the bomb exploded. Filled with powerful archival images, the book also sensitively describes the historical context: the players in World War II, the effects of radiation sickness and the details of postwar American occupation of Japan." – Washington Post
"Stelson's book focuses not just on the horror of the Nagasaki bombing but also on what happens to a girl and her family afterward, creating a powerful reminder about the physical and mental devastation on human beings long after a war has ended. The balance of Sachiko's story with the historical context was heartbreaking yet wholly invaluable with its ultimate message of peace." – MN Book Awards judge
Beyond the Book:
Video: Interview with Caren Stelson at the 2016 Miami Book Fair, Detroit Public TV
Interview: Caren Stelson Talks with Roger, The Horn Book Magazine,
See the Winners Announced Live!
Award winners will be announced at the 29th Annual Minnesota Book Awards Celebration on Saturday, April 8, 2017 at the InterContinental Saint Paul Riverfront. The evening features a Preface Reception with author meet-and-greet and book signing; the Awards Ceremony with live music, celebrity presenters, artisan cheese plates and complimentary wine; and the Epilogue After-Party with complimentary champagne, desserts, and more live music.