Each day we highlight one of the 36 finalists leading up to the April 8 announcement of the Minnesota Book Awards, presented by Education Minnesota. Today we feature 2017 Young Adult Literature finalist: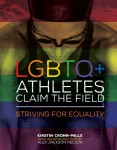 LGBTQ+ Athletes Take the Field: Striving for Equality by Kirstin Cronn-Mills
Published by:  Lerner Publishing
Category Sponsor: Brainfuse
In 2015, the world watched as soccer star Abby Wambach kissed her then-wife after the US women's World Cup victory. Milwaukee Brewers' minor league first baseman David Denson came out as gay. And Caitlyn (born Bruce) Jenner, an Olympic decathlete, came out as transgender. It hasn't always been this way. Many great athletes have stayed in the closet their whole lives, or at least until retirement. Social attitudes, institutional policies, and laws are slow to change, but they are catching up. Together, athletes, families, educators, allies, and fans are pushing for competitive equity so that every athlete, regardless of identity, can have the opportunity to play at their very best.
Kirstin Cronn-Mills, PhD, teaches writing, literature, and critical thinking at South Central College in North Mankato, Minnesota. She writes fiction, poetry, and nonfiction books and articles. Her first young adult novel, The Sky Always Hears Me and the Hills Don t Mind, was a 2010 Minnesota Book Award finalist. Her second, Beautiful Music for Ugly Children, a coming-of-age story about Gabe, a trans music geek, was a Lambda Literary Award finalist and the 2014 Stonewall Book Award winner for best children's and young adult book about the gay, lesbian, bisexual, or transgender experience.
Rave Reviews:
"Hope is found in the past for present and future athletes who identify as lesbian, gay, bisexual, questioning/queer, or other…The positive tone and multitude of examples create the optimistic belief that LGBTQ athletes will be able to be true to themselves while competing in their chosen sports." – Kirkus Review
"Hers is an important contribution to the blossoming field of LGBTQ+ literature." – Booklist
Beyond the Book:
Blog: Teen Library Toolbox, School Library Journal