36 Books in 36 Days: Thrill Me
Each day we highlight one of the 36 finalists leading up to the April 8 announcement of the Minnesota Book Awards, presented by Education Minnesota. Today we feature 2017 General Nonfiction finalist: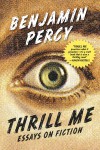 Thrill Me: Essays on Fiction by Benjamin Percy
Published by: Graywolf Press
Category sponsor: College of Saint Benedict Literary Arts Institute and Saint John's University
Thrill Me challenges the notion that literary and genre fiction are somehow mutually exclusive. In fifteen essays on the craft of fiction, Percy looks to disparate sources such as Jaws, Blood Meridian, and The Girl with the Dragon Tattoo to discover how contemporary writers engage issues of plot, suspense, momentum, and the speculative, as well as character, setting, and dialogue. An urgent and entertaining missive on craft, Thrill Me brims with Percy's distinctive blend of anecdotes, advice, and close reading, all in the service of one dictum: Thrill the reader.
Benjamin Percy is the author of three novels, most recently The Dead Lands, a post-apocalyptic reimagining of the Lewis and Clark saga. He is also the author of Red Moon and The Wilding, as well as two books of short stories. His fiction and nonfiction have been read on National Public Radio, performed at Symphony Space, and published by Esquire, GQ, The Paris Review, McSweeney's, and Ploughshares, among others. He also writes the Green Arrow and Teen Titans series at DC Comics.
His honors include a fellowship from the National Endowment for the Arts, the Whiting Writers' Award, two Pushcart Prizes, the Plimpton Prize, and inclusion in Best American Short Stories and Best American Comics. Percy's next novel, The Dark Net, is due out in 2017 with Houghton Mifflin Harcourt.
Rave Reviews:
"[Benjamin Percy] peppers his observations of today's literary scene with homey, witty anecdotes, and he couches his analysis in no-nonsense wisdom. . . . Not only does he frame the ins and outs of the writing process with warm, wry reminiscences drawn from his own life, he refuses to lapse into stereotypical preciousness or pretentiousness. He talks bluntly and amiably about how stories work and why they matter, an approach that doesn't take a fellow writer to appreciate." —NPR.org
"Deeply personal and intriguing. . . . This is a craft book about how to be a better writer, but it's also a colorful memoir about a young boy who loved reading. . . . Would-be writers will find Percy's passionate, pragmatic cheerleading inspiring and energizing."— Kirkus Reviews
"A compelling exhortation to writers of fiction to bring life to their work with vivid writing and word-images. Written in lively prose and liberally laced with engaging examples, author Benjamin Percy has turned what could have been an instructive but ploddingly work-a-day book into a page turner. Though aimed at writers of fiction, this book has a lot to say to anyone who writes and will reward a read by anyone who enjoys good writing." — MN Book Awards judge
Beyond the Book:
Percy discusses the elements that combine to create thrilling fiction on Talk of Iowa (Iowa Public Radio).
Learn about Percy's phobias (clowns, sharks, dentists), his workspace wall hangings (antlers, skulls, dead tarantulas), and more in this Q&A by Powell's Books.