36 Books in 36 Days: The Born and the Made
Each day we highlight one of the 36 finalists leading up to the April 8 announcement of the Minnesota Book Awards, presented by Education Minnesota. Today we feature 2017 Genre Fiction finalist: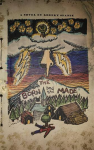 The Born and the Made by Robert Spande
Self-published
Category Sponsor: Macalester College
Hand-sewn, illustrated, and crafted by the author, The Born and the Made is a novel set in The Heart-Shaped Forest, located somewhere in the American Midwest during a hazy time in the mid-'70s. Nestled in this forest is a town shaken by the terrible murder of its one, beloved schoolteacher, Holly. Particularly enamored of the late Miss Holly is 15-year-old Johnny Cleary. Johnny, with the help of his bullheaded younger sister, Cot, set out to solve the crime and are drawn into a supernatural nightmare of world-ending proportions.
Robert Spande is a police and fire dispatcher in Minneapolis. For the last 10 years he has been working on The Born and the Made, when not attending to his lovely wife, his four kids (all teens), his two retrievers, his two chinchillas and his cat. He lives in Bloomington, MN.
Rave Reviews
"This undeniably original book centers on a mystery in a very unique small town. The end result is a gripping read. From the handmade cover to the never ending twists in the story, this book is a deserving finalist." – Minnesota Book Awards Judge
Beyond the Book
Excerpt from Q&A:
Where did you learn how to make books?
I watched YouTube vids on how to make blank journals. Vis-à-vis the material, eternal "book," my main goal has always been to evict the phenomenon of cracked spines from the universe. This I have been fairly successful in doing with The Born and the Made, through a yet-to-be-patented process which I will divulge only to you contains the mystery-enshrouded alchemy, passed from master to acolyte throughout the millennia, known as "drilling" and "sewing" and "gluing." Please do not tell anyone. In the early days, I hacked my printer, turning it into a low-cost toner-swilling slave, endlessly churning out duplexed pages, which I would then laboriously fold and stack and glue and drill and sew and cover. These I would force on anyone in the vicinity, and if there was no one in the vicinity, I would stuff it into a Little Free Library.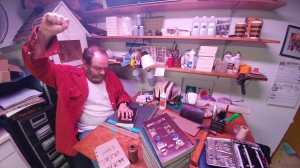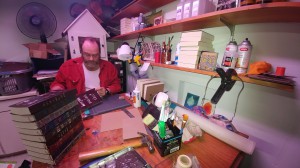 Read the full Q&A with Robert here.