36 Books in 36 Days: This is Where I Am
Each day we highlight one of the 36 finalists leading up to the April 8 announcement of the Minnesota Book Awards, presented by Education Minnesota. Today we feature 2017 Memoir & Creative Nonfiction finalist: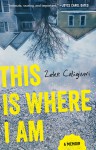 This Is Where I Am: A Memoir by Zeke Caligiuri
Published by: University of Minnesota Press
Category Sponsor: Faegre Baker Daniels
Prison is where Zeke Caligiuri is. Powderhorn Park in South Minneapolis, dubbed "Murderapolis" the year he turned eighteen, is where he comes from. It was the same neighborhood his father grew up in but had changed dramatically by the early 1990s. Yet in Zeke's family, father and mother and grandmother kept things together while all around them the houses decayed and once-safe streets gave way to the crush of poverty and crime. This Is Where I Am is Zeke Caligiuri's clear-eyed account of how he got from there to here, how a boy who had every hope went from dreaming of freedom to losing it, along with nearly everything and everyone he loved.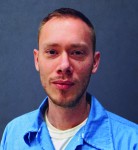 About the Author:
Zeke Caligiuri is a writer of fiction, nonfiction, and poetry who grew up in the Powderhorn Park neighborhood of South Minneapolis. His Short Story, "There Will Be Seeds for Next Year" is in the collection Prison Noir, edited by Joyce Carol Oates, and his writing was also published in From Education to Incarceration: Dismantling the School-to-Prison Pipeline and From the Inside Out: Letters to Young Men and Other Writings. His articles have been featured in the Minnesota Spokesman-Recorder, and he has won awards through the PEN Prison Writing Contest, including two first prizes for "The Last Visit from the Girl in the Willow Tree" and "Bombs," which was published in the 2016 PEN America journal Hauntings. Caligiuri is incarcerated at the Faribault Correctional Facility in Minnesota, where he works as a prison justice advocate and continues to write.
Rave Reviews:
"He's brutally honest. In raw yet lyrical language, he attempts to explain how a once promising life went wrong." —Star Tribune
"This is an important story to tell, especially with the rise of the prison population. The view from inside is invaluable, and his exploration of craft through the telling of this narrative impressed the panel on the micro level (in turns of phrase, such as in describing bullets shot as tears shed) as well as the macro level (in using the photograph of a friend as a means to explore their relationship and the path each chose to follow)." — Minnesota Book Awards judge
Beyond the Book:
Interview on KFAI's Write on Radio: Zeke speaks with Lynette Reini-Grandell by phone from the Faribault Correctional Facility (beginning at 2:45), followed by a brief interview with editor Erik Anderson beginning at 14:45.
Caligiuri reflects on the role writing has played in his rehabilitation in this interview with Erica Rivera of City Pages: "It's been a way for me to have an ongoing dialogue with myself. It's a self-check. I have these projects that keep me on task so I don't get lost in the long stretches of time. That's a really easy thing to do in these places. There's a re-humanization process involved in it, too. A lot of what the writing does is it allows me to rebuild the human aspect of me, sort of re-establish the value of my own life."