36 Books in 36 Days: Sticks and Stones
Each day we highlight one of the 36 finalists leading up to the April 8 announcement of the Minnesota Book Awards, presented by Education Minnesota. Today we feature 2017 Middle Grade Literature finalist: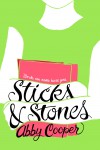 Sticks and Stones by Abby Cooper
Published by: Farrar Straus Giroux/Macmillan
Category Sponsor: Education Minnesota
Ever since she was a baby, the words people use to describe Elyse have instantly appeared on her arms and legs. At first it was just "cute" and "adorable," but as she's gotten older and kids have gotten meaner, words like "loser" and "pathetic" appear, and those words bubble up and itch. And then there are words like "interesting," which she's not really sure how to feel about. Now, at age twelve, she's starting middle school, and just when her friends who used to accept and protect her are drifting away, she receives an anonymous note saying "I know who you are, and I know what you're dealing with. I want to help." As Elyse works to solve the mystery of who is sending her these notes, she also finds new ways to accept who she is and to become her best self.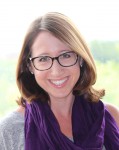 About the Author:
Abby Cooper lives in Saint Paul with her miniature poodle, Louis, and a whole bunch of books. She attended Indiana University – Bloomington, where she received her bachelors in education, and Illinois State University, where she studied library/information science. A former teacher and school librarian, her favorite things in the world (besides writing) are getting and giving book recommendations and sharing her love of reading with others. Sticks & Stones is her first novel.
Rave Reviews:
"The unsteady emotions of middle school are palpable in Cooper's debut, from trying on identities to believing moments that pass like a blush will last forever; even teachers learn to grow. Elyse's struggles toward self-confidence will resonate with…all readers learning how to be comfortable in their own skins." – Kirkus Reviews
"Self-acceptance is the key in Cooper's debut, but Elyse's struggle to get there is painfully realistic. Her interior thoughts and monthly letters to herself reveal a healthy sense of humor …but it's Elyse's kindness, perseverance, and smarts that help her rebuild her self-esteem. Cooper's stance on bullying is clear: words can—and do—hurt, but their power over you is only as strong as you allow them to be." – Publishers Weekly
"Cooper's book explores a unique twist on the "stick and stones" saying. It has mystery, internal and external conflict, and fortitude, all suitably written in the point of a view of Elyse, a not-always-typical, present-day middle schooler." – Minnesota Book Awards judge
Beyond the Book:
Interview: "Armstrong graduate writes children's book about the power of words," Robbinsdale Area Schools