Each day we highlight one of the 36 finalists leading up to the April 8 announcement of the Minnesota Book Awards, presented by Education Minnesota. Today we feature 2017 Young Adult Literature finalist: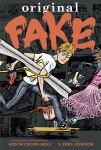 Original Fake by Kirstin Cronn-Mills, art by E. Eero Johnson
Published by: G.P. Putnam's Sons/Penguin Random House
Category Sponsor: Brainfuse
Introvert Frankie Neumann hates his life, and understandably so. He's got a weird, tutu-wearing sister, Lou, and even weirder parents. He's just the guy who makes pizza at Pizza Vendetta. After his shift one night, Frankie meets David and Rory, cousins and errand runners for the mysterious Uncle Epic, a legendary anonymous street artist and Frankie's absolute idol. Little could Frankie dream that his new adventures with Uncle Epic would lead to the perfect opportunity to strike back at his insufferable sister. When things go haywire quicker than you can say "street art kicks righteous ass," the lines are suddenly blurred between art and Frankie's real life.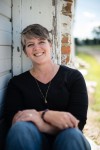 About the Author:
Kirstin Cronn-Mills is a self-proclaimed word nerd who secretly wants to be a street artist. Her first YA novel, The Sky Always Hears Me and the Hills Don't Mind, was a Minnesota Book award finalist in 2010. Her second novel, Beautiful Music for Ugly Children, won the 2014 Stonewall Award from the American Library Association. She writes a lot, reads as much as she can, and goofs around with her husband and son in North Mankato, Minnesota.
E. Eero Johnson is a Minneapolis-based illustrator, graphic designer, and comic book artist. His illustrations have appeared in GQ, The New Yorker, Newsweek, Wired, and The New York Times, and on several book jackets. Original Fake is his first fully illustrated book. His longtime comic book project, The Outliers, is being expanded into a graphic novel for 2018. Johnson lives and draws with the support of his wife, two sons, and an elderly Boston terrier. Follow Erik on Twitter and Facebook.
Rave Reviews:
"Johnson's bold black and orange illustrations spotlight key plot points and emotions, emphasizing Frankie's view of the world and his budding affections for David. Cronn-Mills's consideration of the intersections between art and family is striking and heartfelt." ─ Publishers Weekly (starred review)
"At the crux, this story of statement-making art and a love affair with creativity is all about the power of blurring lines and altering perceptions of acceptability…The book is also a balance between text and art. Johnson's bright orange, black, and white illustrations replace what might have been Cronn-Mills' text on the pages, continuing the narrative intermittently through visuals rather than type. The melding of these two métiers speaks to the significance of fine art as a valid voice and means of expression, a timeless tool for storytelling." ─ Lambda Literary
Beyond the Book:
Video: Meet the authors, Minnesota State University – Mankato
Article: Cover reveal, School Library Journal website