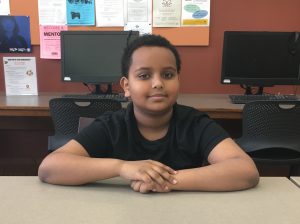 Eight-year-old Salman loves reading. Right now he's immersed in Diary of a Wimpy Kid by Jeff Kinney and the Geronimo Stilton series (one of his favorites!). He reads at the library, at school, and every night before bed. But Salman wasn't always so confident about reading.
"He used to be very shy, and he didn't like to read out loud," says Michelle, Salman's tutor in the Reading Together program. Every Monday for the past two years, Salman has met with Michelle, an adult volunteer, at the Dayton's Bluff Library to practice his reading skills. The pair takes turns reading to each other with books that they choose together.
Michelle has seen a transformation during their time together in this system-wide program. "Now he's reading very well, and he's opened up. He talks much more, and I get to see his great sense of humor."
The one-on-one guidance has been an important part of Salman's growth. He and Michelle have built a relationship and enjoy an easy comfort level after working together for so long.
Salman says he loves the program. "I used to read short books," he says. "Now I can read big books." He says he gets better at reading, "and it's fun!"

Salman's hard work has paid off. At the end of the school year, Salman learned that, for the first time, he had not only met, but exceeded the required reading levels for his grade.
His mother, Faduma, attributes this success to the Library and the Reading Together program.
She is thrilled with the skills all her kids are learning at the Library. She brings her children four days a week for the Reading Together program, Homework Help, and for quiet time to themselves to read and learn.
Faduma is inspired by all the possibilities the Library offers and has become an advocate to anyone she meets. "You can get your kids help with reading and writing. You can get help with math. You can learn English. If someone is looking for something, I tell them: go to the library!"
For learn more or to become a volunteer, visit sppl.org/reading-together