We Believe in Our Community.
We Invest in Our Library.
Your support helps the library keep Saint Paul neighborhoods resilient.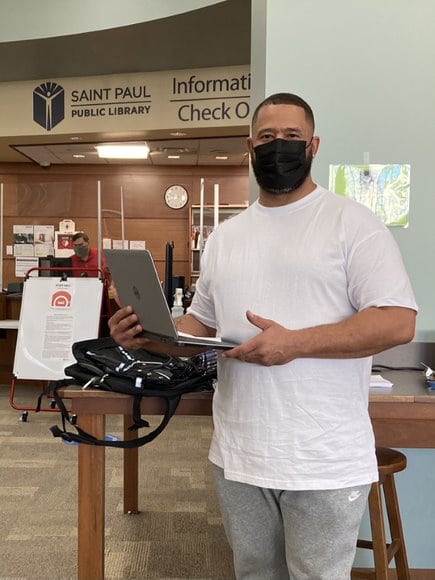 We Invest in the Library. Our City Recovers Together.
The pandemic has shown us that for our communities to be resilient,
we must rely on technology to stay connected. We depend on the
internet and communication technology to effectively work, learn, access
healthcare, and connect to essential services – and to each other.
Technology is only effective, however, if people have reliable access to
it and personalized guidance on how to use it. Saint Paul Public Library
responds to community needs holistically, so that residents not only
have the necessary tools to participate in digital life but feel confident
using them. The trust and relationships that the library has built with
community members put it in a unique position to deliver these services.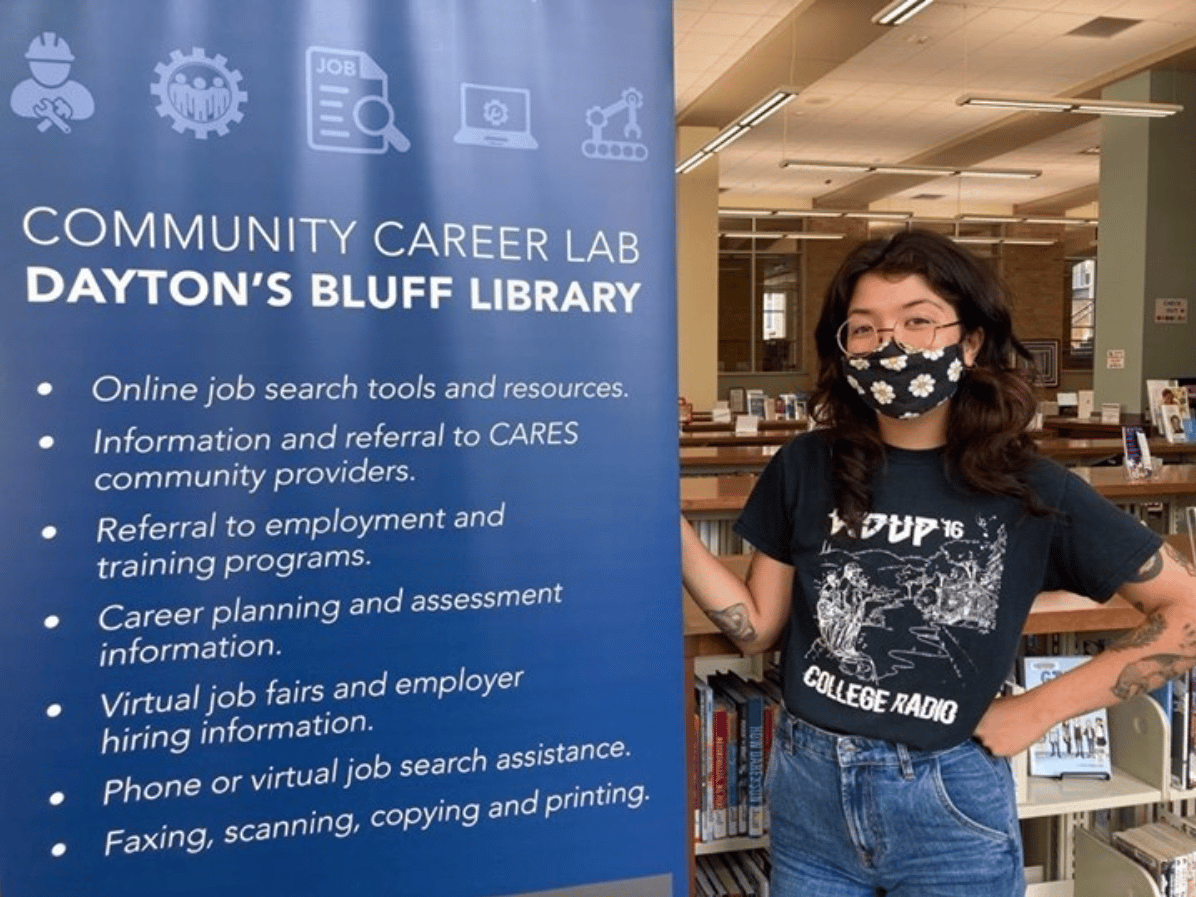 Saint Paul Public Library is a Change Agent for Digital Equity.
Technology Access

Computers: Appointments for computers were the first in-person
services to come back with safety protocols during the pandemic.
The library also gave 792 TechPaks with refurbished laptops and Wi-Fi
hotspots to job seekers.

Wi-Fi: The library provided 69,206 Wi-Fi sessions last year, and just
installed new outdoor Wi-Fi at all 13 library locations.

Copy, Fax, and Printing: Residents rely on these basic services, available
at all library locations, to send health documents, housing applications,
unemployment claims, voter registrations, and more.

One-on-One Guidance

Career Labs: This pandemic pilot program provided 766 COVID-impacted
job seekers with targeted support and computer access, in partnership
with Ramsey County Workforce Solutions.

Community Services Managers: These library professionals are members
of the communities they serve and provide personal guidance in
residents' native languages, including digital literacy training. The library
received a major 2020 Institute for Museum and Library Services CARES
grant to fund the expansion of this program.

Digital Navigators: Through this new program, specialists will work
directly with community members to address the whole digital inclusion
process, including securing access to reliable internet at home, accessing
low-cost devices, and providing digital skills, training, and job support.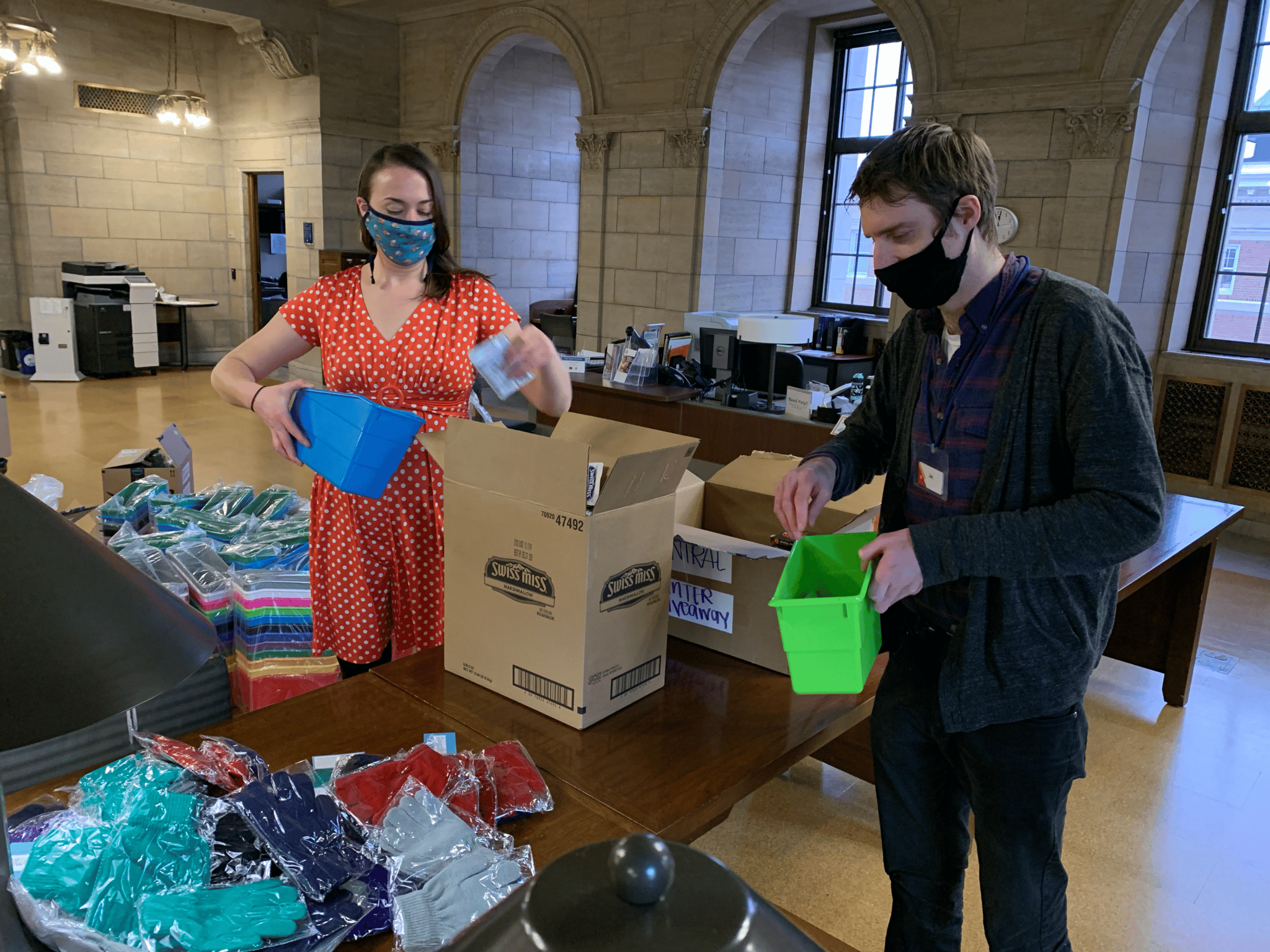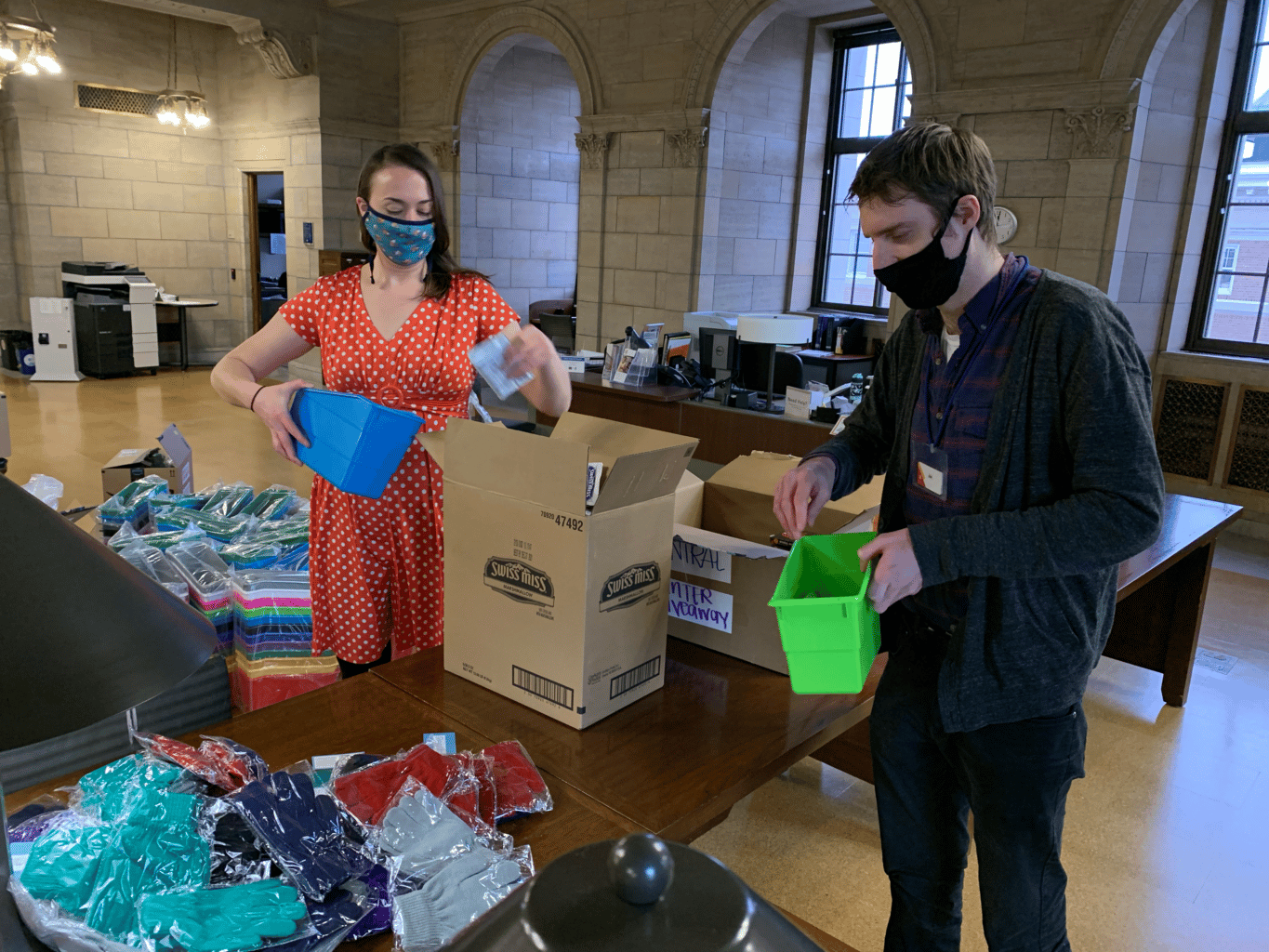 Friends Show Up.
The Friends invests in the library through fundraising, advocacy, and
programming. In the past year, Friends like you showed up in big ways to
help us find success despite the challenges. With the help of a Paycheck
Protection Program (PPP) loan, The Friends was able to retain its full
staff so we could put your generosity to work and continue to provide
significant support for the library.

Fundraising
• The Friends raised $899,417 for the library.
• 100% of institutional funders renewed their grant support of library
programs and projects. Many offered increased flexibility in use of
funds so the money could go where it was needed the most.
• Individual gifts in direct support of the library increased by 32%.

Advocacy
• Friends like you proudly displayed more than 1,000 "I'm a Friend of
the Library" lawn signs.
• Nearly 1,400 supporters signed a petition urging city leaders to
sustain library funding.
• While funding levels across all city departments were deeply reduced,
the approved budget restored nearly $400,000 in proposed cuts to
library funding.

Programming
• Our virtual Minnesota Book Awards Ceremonies in 2020 and 2021
had over 7,000 views.
• Our virtual programs like Fireside Reading Series and Moving Words
had 15,543 views.
• There were 55,000 downloads of e-books and audiobooks through
our statewide book club One Book | One Minnesota across almost every
county in Minnesota.
See Saint Paul Public Library's 2020 Impact Report at: sppl.org/impact
Technology-rich libraries aren't effective in deteriorating buildings.
Learn more about Saint Paul Public Library's Facilities Direction at:
sppl.org/facilities
Donor Profile: Leaving a Legacy
Scott and Kathy Heiderich worked together at the Saint Paul
Public Library for 52 years between the two of them – Kathy as a
librarian and branch manager and Scott as a building engineer.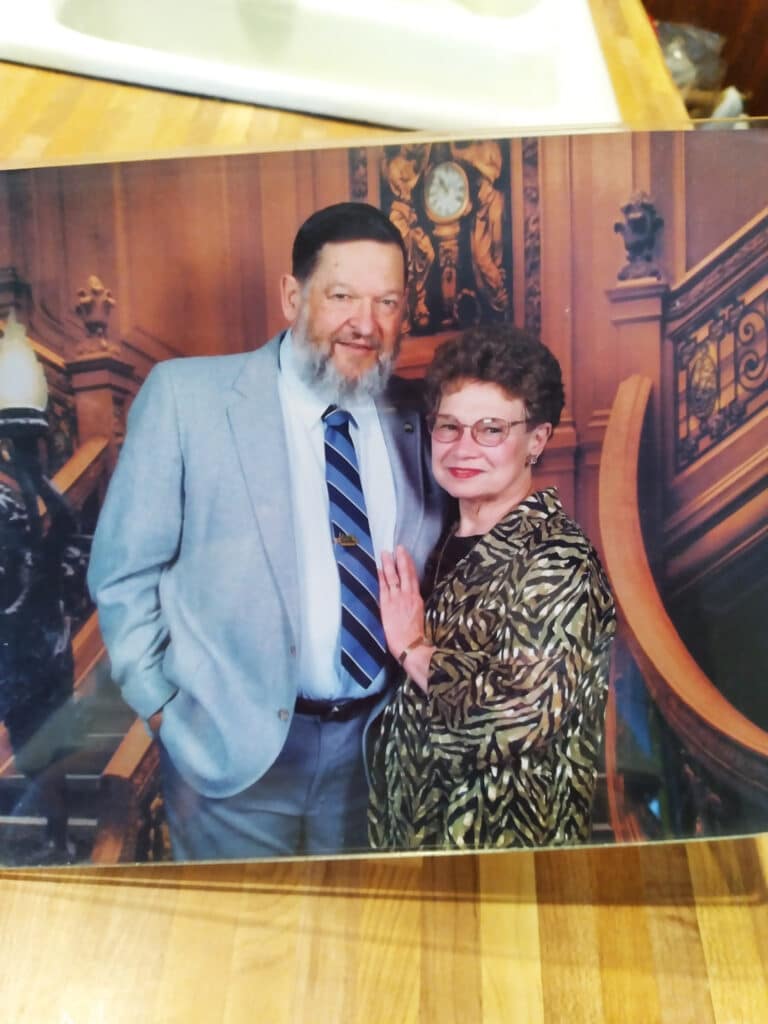 Inspired by the work of The Friends and the Perrie Jones Fund
that allowed Kathy to get her Master's Degree in Library Science, Scott and Kathy dreamed of leaving a similar legacy. The couple envisioned an endowment that would support children's programming at the library. They wanted to support storytimes, children's books, children's art, staff training, and "whatever the librarians need," as Scott put it. The couple set up the endowment in their will while they were still working at the library, designating their home and property to The Friends.
When Kathy passed away in 2020, Scott decided to make their
future dream a current reality. He recently made a cash gift to
establish the endowment now. Scott is excited to see what the
staff will do with the funds and knows that the future of the
endowment is secured with his estate. "I'm very pleased with this," Scott says, "and I know that Kathy is, too."
For information about creating a fund like the Kathy and Scott
Heiderich Endowment Fund, please contact Greg Giles at
[email protected] or 651-366-6499.
Friends like you make our community stronger.
Your investment in The Friends helps libraries
strengthen and inspire their communities – especially in challenging times.
Thank you for your continued belief and support.
thefriends.org/support