Creating Community: Mahamud and Ayuub Ahmed's Story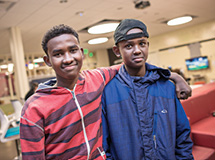 Mahamud and Ayuub Ahmed are brothers who lived in refugee camps in Kenya after being displaced by warfare in Somalia. They came to the United States just four years ago, but have taken to the Createch Studios at Arlington Hills in a big way since arriving in Minnesota in 2014.
---
Keeping Youth on the Right Track: Andrew and Dalena's Story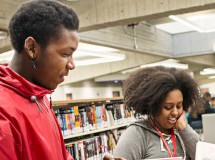 At Sun Ray Library, Andrew and Dalena are Right Track workers—a jobs program for youth that provides work experience, teaches organizational skills, and prepares young people for future employment. The two became best friends during a Right Track voter engagement project. "We both pretty much grew up at the library," they cheerfully recount.