Tell us about your c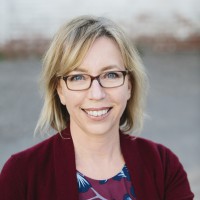 areer path prior to coming to The Friends of the Saint Paul Public Library.

I majored in creative writing and theater (or, as my friends say, writing and talking) at St. Olaf College. While in school, I was thrilled to learn that 'cultural administration' was a job and I've stayed in that field pretty much my entire career. My past employers include the Minnesota Zoo, Guthrie Theater, Children's Theatre, MacPhail Center for Music, University of St. Thomas and the National Endowment for the Arts.
What interested you about The Friends?
I love the arts, and my first love is literature. I am always reading a book, and I believe so strongly in the power of literature to cultivate empathy, inspire creativity, and promote learning. Libraries help level the playing field by opening the door to language and literacy for everyone. The Friends is such an important organization because it serves as the voice and advocate for all the great work being undertaken by the Saint Paul Public Library.
What are you most excited for in this new chapter?
I am a lifelong learner, and I am excited to dive into the evolving role of libraries amidst a world of digitization and technology, increasing cultural diversity, economic disparity, aging infrastructures, and many more factors. I am also looking forward to meeting all of the individuals who have been such generous and loyal supporters of The Friends.  I love hearing peoples' stories about the role that libraries have had in their own lives, and what compels them personally to support this important mission and work.
How do you see your role at The Friends?
I see my role in a couple ways: first, as an advocate and ambassador for the needs of Saint Paul's libraries. Second, it's very clear that The Friends is a healthy organization with a talented staff, committed board, and loyal group of supporters. In that respect, my role will be to steward and support all of these individuals in their own work to ensure that libraries have the resources necessary to thrive in Saint Paul.
How do you see the role of the library in the next 20 years?
I'm not sure I'm qualified to answer that question so early in my tenure, as I have yet to meet many of the creative and enormously talented leaders in this field. That said, I do believe that libraries can, should and will be at the heart of their communities in 20 years.  We will continue to need places to gather, to learn, and to be inspired – as individuals and as communities. Libraries are already so responsive to the needs of their constituents that I'm confident they will continue to evolve in a way that supports the changing needs and aspirations for our communities.
Name a book that changed your life.
Only one? "Little Women" was a powerful book in my childhood. I was inspired by Jo's independence (and that she wanted to be a writer), but I also adored Beth, my namesake, who was so kind and loved music. I received a hardbound copy with illustrations for Christmas in third grade, and I read and reread that book throughout my childhood. I'm sure it influenced my attitudes about loyalty, charity, and every girl's uniqueness and potential.
If you could be any literary character who would you be?
I'm not sure I would want to be any literary character, but I sure would like to meet a few of them! I love reading biographies for the same reason. I would love to work in Sylvia Beach's Paris bookstore (Shakespeare & Co.), attend a meeting with Winston Churchill, or follow Katherine Graham around Washington D.C. for a few days.
Quick Facts about Beth:
Hometown: Austin, MN
Resides in: Mac-Groveland neighborhood, Saint Paul
Favorite season: Autumn
Favorite holiday: The whole month of December
Favorite performing artist: Too many to choose and it changes all the time! Musicians: Prince, Beck, Chrissie Hynde; Theater: Mark Rylance, Kevin Kling
Favorite food: My mom's cardamom bread
Favorite book: Love Medicine by Louise Erdrich
Currently reading: Cherry by Mary Karr
Favorite place in St. Paul: My backyard