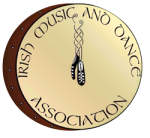 Join The Friends and the Irish Music and Dance Association for an afternoon concert with The HiBs. 

The HiBs are Jode Dowling on fiddle, Kate Dowling on flute and whistle and Cory Froehlich on piano and vocals. They play an energetic style of traditional Irish music, presenting an array of jigs, reels, polkas, slides and more. Steeped in the tradition, all three have a deep knowledge of Irish music and their love for it emmanates in their tunes and songs. Kate and Jode founded the Center for Irish Music, and Cory and Jode are active teachers there, where they are handing down the tradition to the next generation of Irish musicians. Don't miss this opportunity to see these artists in a concert setting!

The concert will be a great way to get ready for the Irish Music and Dance Association's authentic, family-friendly St. Patrick's Day Irish Celebration at Landmark Center on Friday, March 17.