When:
March 21, 2017 @ 12:00 pm
Contact:
Alayne Hopkins
651-222-3242
Email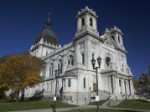 "Musique et Masqueray: Contemplative French Baroque Music in Minnesota's Architectural Gems"
Rose Ensemble Lecture & Demonstration
In 17th and 18th century France, theatres and opera houses closed during the 40 days of Lent. The composers of the time, rather than taking a break, turned their attention to church music, allowing professional singers to share their talents with the faithful. The Rose Ensemble's latest concert will be performed in architectural masterpieces created by Emmanuel Masqueray (1861-1917), where they honor the craft of one of Minnesota's great artists with sublime works by Charpentier, Couperin, Bournonville, and DuMont. Learn about the unique history and architecture of the concert venues, as well as that of the music to be performed in this engaging lecture and demonstration.