When:
April 17, 2017 @ 7:00 pm – 8:00 pm
Contact:
Alayne Hopkins
651-222-3242
Email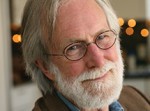 "Deep Heart's Core: Poetry & Mystery" with Katie Donovan and James Lenfestey
Monday, April 17 | 7 p.m.
Join O'Shaughnessy Award-winning Irish poet Katie Donovan and local writer James Lenfestey for a conversation about their craft and the influence of the great mysterious in poetry. Presented with the Center for Irish Studies at the University of St. Thomas.
Donovan, born 1962, grew up on a farm in County Wexford, and was educated at Trinity College Dublin and at UC Berkeley. She spent a year in Hungary teaching English before returning to Ireland to work as a journalist with the Irish Times. She has published five poetry collections, all with the British publisher Bloodaxe. Currently she works as an Amatsu practitioner and has taught creative writing at the Institute of Art, Design and Technology in Dun Laoghaire. She is widowed and has two children.
Her books include Watermelon Man, Entering the Mare, Day of the Dead, Rootling: New and Selected Poems, and most recently, Off Duty, a collection that focuses on the year in which her husband died of throat cancer.
Journalist and poet James P. Lenfestey was born and raised in De Pere, Wisconsin, and educated at Dartmouth College. In 1974, he discovered the work of T'ang poet Han-shan, or Cold Mountain, whose poems offer both thematic and formal inspiration for Lenfestey's concise, image-driven poetry. He is the author of several poetry collections, including A Cartload of Scrolls: 100 Poems in the Manner of T'ang Dynasty Poet Han-Shan and Into the Goodhue County Jail: Poems to Free Prisoners, the essay collection The Urban Coyote: Howlings on Family, Community and the Search for Peace and Quiet, and a haibun volume of interwoven poetry and prose, Seeking the Cave: A Pilgrimage to Cold Mountain, a Minnesota Book Award finalist.
During his career as a journalist, Lenfestey served as an editorial writer for the Minneapolis Star Tribune, where he received three Page One Awards for excellence in journalism. He chairs the Literary Witnesses poetry program in Minneapolis.
Dublin-based poet Katie Donovan will receive the O'Shaughnessy Poetry Award in April.  Her free public reading, which will follow a week of classroom visits and public appearances, will be on Friday, April 21, at 7:30 p.m. in the auditorium of John Roach Center at the University of St. Thomas.