One way The Friends invests in the Library is by connecting people to libraries through a range of cultural programs. For more than 25 years, we have offered programs that entertain, enrich, and nourish curious minds.
Our events are always open to the public and most are free. You can make an investment in the library simply by joining us at one of our upcoming programs.
Behind The Curtain with Park Square Theatre
Periodically throughout the year, The Friends and Park Square Theatre present an evening in conversation with cast members from the latest Park Square Theatre production. Attendees of the program can purchase half-priced tickets to see the Park Square production.
Visit our secure registration page to reserve your spot at the program. Receive a special reservation code and call Park Square Theatre at 651-291-7005 for standard half-price tickets (subject to availability). Meet the artistic team at the Library for a "Behind the Curtain" discussion and pick up your tickets to the show. Must attend library program to receive discount.
Friends members always receive a $5 discount on Park Square Theatre tickets.
Apr
3
Tue
Books & Bars: "Beartown"

@ Amsterdam Bar & Hall
Apr 3 @ 5:00 pm
With The Friends of the Saint Paul Public Library, moderator Jeff Kamin brings his unique take on a public book club show to Saint Paul every first Tuesday of the month (with some exceptions). Even if you don't like the featured book, he "guarantees a good time at our entertaining discussions." All are welcome to try this moderated reinvention of the book club. No registration required.
5:00 Happy Hour Social | 6:15 Discussion
---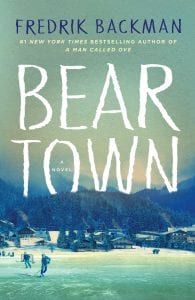 Beartown by Fredrik Backman
The #1 New York Times bestselling author of A Man Called Ove returns with a dazzling, profound novel about a small town with a big dream—and the price required to make it come true.
People say Beartown is finished. A tiny Swedish community nestled deep in the forest, it is slowly losing ground to the ever-encroaching trees. But down by the lake stands an old ice rink, built generations ago by the working men who founded this town. And in that ice rink is the reason people in Beartown believe tomorrow will be better than today. Their junior ice hockey team is about to compete in the national semi-finals, and they actually have a shot at winning. All the hopes and dreams of this place now rest on the shoulders of a handful of teenage boys.
Being responsible for the hopes of an entire town is a heavy burden, and the semi-final match is the catalyst for a violent act that will leave a young girl traumatized and a town in turmoil. Accusations are made and, like ripples on a pond, they travel through all of Beartown, leaving no resident unaffected.
 Beartown explores the hopes that bring a small community together, the secrets that tear it apart, and the courage it takes for an individual to go against the grain. In this story of a small forest town, Fredrik Backman has found the entire world.
Apr
6
Fri
Loud at the Library: Jessica Manning, with Mina Moore

@ George Latimer Central Library
Apr 6 @ 7:30 pm

Jessica Manning, with Mina Moore | Tickets $10
Doors Open – 7:00 | Music Starts – 7:30
You can do amazing things at the library – like enjoy live music and craft beer in the middle of the stacks. Come get LOUD at the Library this winter in downtown Saint Paul with local bands and local brews. Tickets help support all the amazing things you can do at the library.
All attendees over 21 who bring a current library card from any system will receive one free beer, courtesy of sponsor Summit Brewing.
Get tickets below!
Jessica Manning
Jessica Manning is an electro-R&B artist based in the Twin Cities.  Growing up in Stockholm, Sweden with a soul-singing father, Jessica grew to love music and performing through her father's passion for being on stage. She draws influence from pop, soul, and electronic music by artists such as Frank Ocean, James Blake, and Kevin Garrett. Her sound incorporates electronic drums and synthesizers to create an atmosphere that her soulful melodies, rich vocals, and thoughtful lyrics soar high above.
"Oh those vocals. I could listen all day to her rich, soulful, and clear tones. Her words speak of a wisdom far beyond her years, but her ego does not follow. Elements of soul, as well as a floating atmosphere […] weave themselves together to create a modern sense of soul: the perfect soundtrack for sunrise or sunset." – Kelsey Simpkins (Sofar Sounds)
Mina Moore
Mina Moore is a singer-songwriter from Minneapolis. Her music draws from that of her upbringing, leaning heavily on soul, R&B, and inevitably, pop. Like so many of us, Mina's pallet is ever growing, and her live performances aim to educate as much as entertain.
Apr
21
Sat
Minnesota Book Awards Ceremony

@ InterContinental Hotel Saint Paul Riverfront
Apr 21 @ 6:30 pm – 10:30 pm
Celebrate the best in local literature at the 30th annual Minnesota Book Awards Ceremony. Readers, writers, and book-lovers from all over the state gather together for one incredible evening to honor stories of Minnesotans that connect us all.
6:30 p.m. – Preface Reception
Meet the finalists, book sales and signing, and cash bar.
8:00 p.m. – Awards Ceremony
Wine and refreshments, celebrity presenters, and live music.
9:30 p.m. –  Epilogue After-Party
Complimentary champagne and desserts. Toast the winners and finalists and listen to live music.
Awards will be presented to the winners in nine book categories, the 2018 Book Artist Award winner, the 2018 Hognander Award winner, as well as the 2018 Kay Sexton Award honoree.
Tickets will go on sale to the general public February 5, 2018.
The Friends and The Advocates for Human Rights present thought-provoking and enlightening films followed by moderated discussions throughout the fall and spring. Films in the series cover a broad range of human rights issues that affect people all across the globe.