One way The Friends invests in the Library is by connecting people to libraries through a range of cultural programs. For more than 25 years, we have offered programs that entertain, enrich, and nourish curious minds.
Our events are always open to the public and most are free. You can make an investment in the library simply by joining us at one of our upcoming programs.
Behind The Curtain with Park Square Theatre
Periodically throughout the year, The Friends and Park Square Theatre present an evening in conversation with cast members from the latest Park Square Theatre production. Attendees of the program can purchase half-priced tickets to see the Park Square production.
Visit our secure registration page to reserve your spot at the program. Receive a special reservation code and call Park Square Theatre at 651-291-7005 for standard half-price tickets (subject to availability). Meet the artistic team at the Library for a "Behind the Curtain" discussion and pick up your tickets to the show. Must attend library program to receive discount.
Friends members always receive a $5 discount on Park Square Theatre tickets.
Jun
5
Tue
Books & Bars: "The Hate U Give"

@ Amsterdam Bar & Hall
Jun 5 @ 5:00 pm
With The Friends of the Saint Paul Public Library, moderator Jeff Kamin brings his unique take on a public book club show to Saint Paul every first Tuesday of the month (with some exceptions). Even if you don't like the featured book, he "guarantees a good time at our entertaining discussions." All are welcome to try this moderated reinvention of the book club. No registration required.
5:00 Happy Hour Social | 6:15 Discussion
---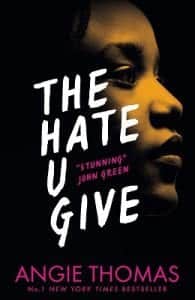 The Hate U Give by Angie Thomas
Join us for a discussion of The Hate U Give ─ a groundbreaking, thought-provoking debut novel inspired by the Black Lives Matter movement, about a teen girl who is the only witness to her friend's fatal shooting by a police officer.
Sixteen-year-old Starr Carter moves between two worlds: the poor black neighborhood where she lives and the fancy suburban prep school she attends. The uneasy balance between these worlds is shattered when Starr witnesses the fatal shooting of her childhood best friend, Khalil, at the hands of a police officer. Khalil was unarmed.
Soon afterward, Khalil's death is a national headline. Some are calling him a thug, maybe even a drug dealer and a gangbanger. Starr's best friend at school suggests he may have had it coming. When it becomes clear the police have little interest in investigating the incident, protesters take to the streets and Starr's neighborhood becomes a war zone. What everyone wants to know is: What really went down that night? And the only person alive who can answer that is Starr.
But what Starr does — or does not — say could destroy her community. It could also endanger her life.
Jun
27
Wed
Behind the Curtain with Park Square Theatre: "Ken Ludwig's Baskerville: A Sherlock Holmes Mystery"

@ Saint Anthony Park Library
Jun 27 @ 7:00 pm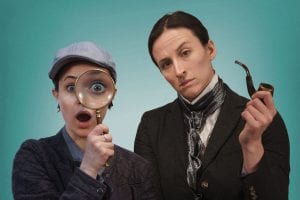 Join The Friends and Park Square Theatre for an evening with cast members from the upcoming production of Ken Ludwig's Baskerville: A Sherlock Holmes Mystery.
The game's afoot in this hilarious thriller that's anything but elementary! Five actors play over 40 comical characters in this fast-paced comedy about everyone's favorite detective solving his most notorious case. When the wealthy Henry Baskerville is threatened by the fable of a bloodthirsty hound on the moors, Holmes and Watson are on the case to sniff out the culprit.
Enjoy a behind-the-scenes look at this evening of mayhem and mystery with cast members McKenna Kelly-Eiding (Sherlock Holmes), Sara Richardson*(Watson), and set designer Eli Schlatter.
SPECIAL HALF-PRICE TICKET OFFER:
Attendees of the library program are invited to purchase up to four (4) half-priced, standard tickets to see a performance of the show at Park Square Theatre (June 28 – August 5). All tickets must be purchased in advance of the June 27 discussion program at Saint Anthony Park Library and can be picked up that evening. Register for the event below and get the code to access the discount.
*Member of Actor's Equity Association
The Friends and The Advocates for Human Rights present thought-provoking and enlightening films followed by moderated discussions throughout the fall and spring. Films in the series cover a broad range of human rights issues that affect people all across the globe.