Books & Bars: "We Ride Upon Sticks" by Quan Berry
When:
October 7, 2020 @ 7:00 pm
2020-10-07T19:00:00-05:00
2020-10-07T19:15:00-05:00
With The Friends of the Saint Paul Public Library, moderator Jeff Kamin brings his unique take on a public book club show to Saint Paul. Even if you don't like the featured book, he "guarantees a good time at our entertaining discussions." All are welcome to try this moderated reinvention of the book club.
We Ride Upon Sticks by Quan Berry
Wednesday, October 7, 2020 | 7:00 p.m. CST
Zoom | CLICK HERE to register
This event is FREE and open to the public; registration is required. After registering, you will receive a confirmation email containing information about joining the meeting.
---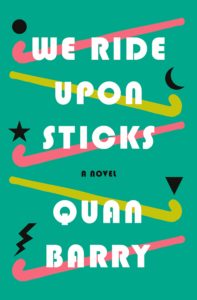 In the coastal town of Danvers, Massachusetts, where the accusations began that led to the 1692 witch trials, the 1989 Danvers High School Falcons field hockey team will do anything to make it to the state finals—even if it means tapping into some devilishly dark powers.
Helmed by good-girl captain Abby Putnam (a descendant of the infamous Salem accuser Ann Putnam) and her co-captain Jen Fiorenza (whose bleached blond "Claw" sees and knows all), the Falcons prove to be wily, original, and bold, flaunting society's stale notions of femininity in order to find their glorious true selves through the crucible of team sport and, more importantly, friendship.