Fireside Reading Series: Carolyn Holbrook
When:
February 10, 2021 @ 7:00 pm – 8:00 pm
2021-02-10T19:00:00-06:00
2021-02-10T20:00:00-06:00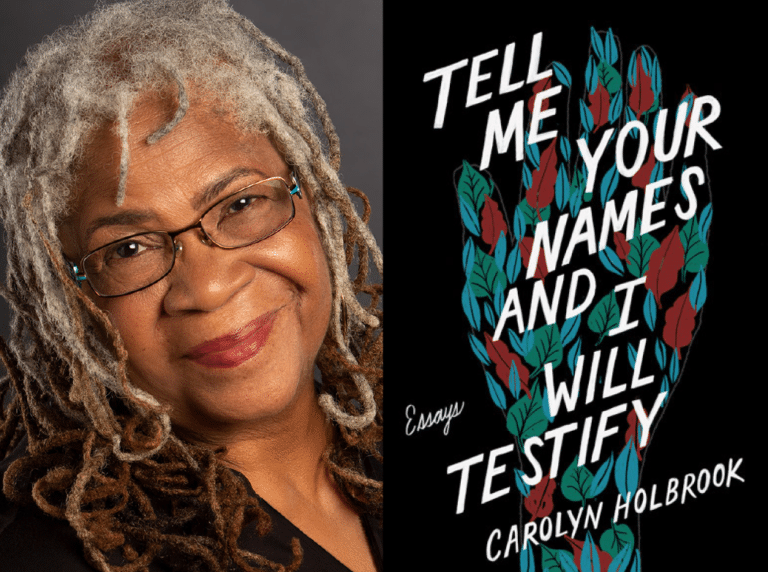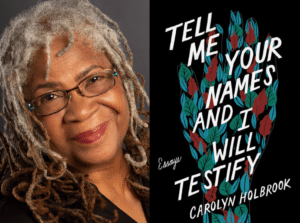 Wednesday, February 10th | 7:00pm
Tell Me Your Names and I Will Testify: Essays by Carolyn Holbrook
Creative Nonfiction

About the Book
Carolyn Holbrook's life is peopled with ghosts – of the girl she was, the selves she shed and those who have caught up to her, the wounded and kind and malevolent spirits she's encountered, and also the beloved souls she's lost and those she never knew who beg to have their stories told. "Now don't you go stirring things up," one ghostly aunt counsels. Another smiles encouragingly: "Don't hold back, child. Someone out there needs to hear what you have to say."
Once a pregnant sixteen-year-old incarcerated in the Minnesota juvenile justice system, now a celebrated writer, arts activist, and teacher who helps others unlock their creative power, Holbrook has heeded the call to tell the story of her life, and to find among its chapters – the horrific and the holy, the wild and the charmed – the lessons and necessary truths of those who have come before.
About the Author
Carolyn Holbrook is a writer, educator, and longtime advocate for the healing power of the arts. She is the author of an essay collection, Tell Me Your Names and I Will Testify and a co-author of MN civil rights icon, Dr. Josie R. Johnson's memoir, Hope In the Struggle. Her personal essays have been published widely, most recently in A Good Time for the Truth: Race in Minnesota and Blues Vision: African American Writing from Minnesota. She is the recipient of three MN State Arts Board grants and an MRAC Next Step grant, and she was awarded a 50 over 50 award from AARP/Pollen Midwest in 2016. Holbrook was the first person of color to win the Minnesota Book Awards Kay Sexton Award in 2010. She is founder and artistic/executive director of More Than a Single Story for which she won a MN Women's Press Changemaker award in 2015, and was founder and director of SASE: The Write Place (1993-2006). She teaches creative writing at the Loft Literary Center and other community venues, and at Hamline University, where she won the Exemplary Teacher award in 2014.
---
Fireside Reading Series
Great authors by the (virtual) fireside
Wednesdays | January 20th– February 24th, 2021 | FREE
via Zoom
thefriends.org/fireside
YouTube Playlist of 2021 Fireside Events
Cozy up in the comfort of your own home for six weeks of readings. Fireside Reading Series, ongoing in partnership with Hamline Midway Library for 27 years, highlights the work of some of Minnesota's finest writers who have published new work the previous year.
This activity is made possible by the voters of Minnesota through a grant from the Metropolitan Regional Arts Council, thanks to a legislative appropriation from the arts and cultural heritage fund.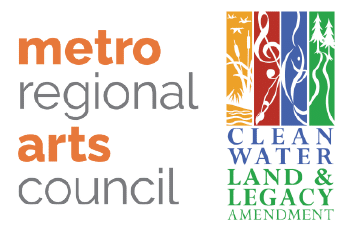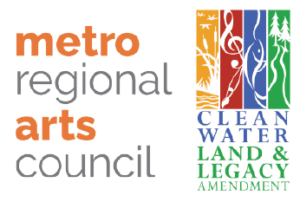 ---
All Fireside Events
Wednesday, January 20th | 7:00pm
Somewhere in the Unknown World: A Collective Refugee Memoir by Kao Kalia Yang
REGISTER HERE
Wednesday, January 27th  | 7:00pm
American Gospel by Lin Enger
REGISTER HERE
Wednesday, February 3rd | 7:00pm
How the Streets Were Made: Housing Segregation and Black Life in America by Yelena Bailey
REGISTER HERE
Wednesday, February 10th | 7:00pm
Tell Me Your Names and I Will Testify: Essays by Carolyn Holbrook
REGISTER HERE
Wednesday, February 17th | 7:00pm
Village of Scoundrels by Margi Preus
REGISTER HERE
Wednesday, February 24th | 7:00pm
Little Big Bully by Heid Erdrich
REGISTER HERE