Rose Ensemble Concert "American Roots: Harmonies that Shaped a Nation"
When:
January 31, 2018 @ 12:00 pm
2018-01-31T12:00:00-06:00
2018-01-31T12:15:00-06:00
Where:
George Latimer Central Library – Magazine Room
90 W 4th St
St Paul, MN 55102
USA

Contact:
Bailey Veesenmeyer
651-222-3242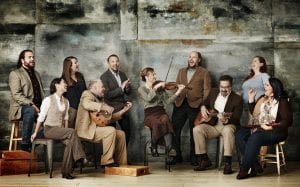 Join The Rose Ensemble for a journey across centuries of folk, spiritual, and cultural traditions in this free performance of "American Roots: Harmonies that Shaped a Nation."
From the British Isles came ballads, hymns, fiddle tunes, and country dances that would shape new traditions in the hills of Appalachia, the dance halls of Boston, and the Shaker villages of Kentucky and New York. Four-part harmony spilled out of country churches and became the musical foundation for causes both religious and political, as anti-slavery meetings, tent revivals, and even presidential campaigns all found power in the marriage of catchy melodies and memorable rhymes.
Meanwhile, vocal lines brewed and bubbled throughout the 19th century, giving birth to what would become Bluegrass and Old-Time Gospel music, with tunes like "I'll Fly Away," "Wayfaring Stranger," and "The Sweet By and By."
Join us and witness the evolution of over 300 years of American musical heritage—all lovingly woven together through story and song.
About The Rose Ensemble
Founded in 1996 by Artistic Director Jordan Sramek, The Rose Ensemble is celebrating more than 20 years of reawakening the ancient with vocal music that stirs the emotions, challenges the mind, and lifts the spirit. Based in Saint Paul, the group tours internationally with a repertoire spanning 1,000 years and 25 languages, including new research in Hawaiian, Swedish, Middle Eastern, and American vocal traditions. With each performance, The Rose Ensemble strives to illuminate centuries of rarely heard repertoire and bring audiences fresh perspectives on history, languages, politics, religion, and world cultures and traditions. Learn more at www.theroseensemble.org.