Just a "Friendly" little competition…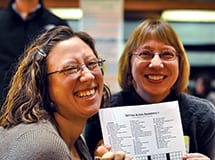 On Sunday, June 14, 2015, solvers tackled three original crossword puzzles created and edited especially for this tournament by local, professional crossword creators whose work has been published in the New York Times. Scoring based on accuracy and speed. Solvers with the highest combined scores from the first three rounds moved on to the finals, with championship puzzles solved in front of the audience.
Prizes were awarded to winners in each category as well as several special awards.
A new "bundling" option for team players was offered this year: Up to four players could compete as a team and as four individual competitors — saving up to $30 on registration fees.
We are delighted to offer two new sample puzzles created by our tournament constructors:
Location directions and add to calendar >>
Schedule Scoring and Rules 2015 (PDF) >>
Complete scores listed here:  2012  |  2013  |  2014  |  2015  (Also includes the special award winners)
---
---
---
Thank you to our sponsors and partners:

American Values Club Crossword


"The Crossword Century" by Alan Connor
Magers & Quinn Booksellers

Revealing the Poet Within

The Best Way to Solve Puzzles in the Digital World
The annual Minnesota Crossword Tournament offers sponsors an opportunity to be part of the only competition of its kind in the state. With the help of some of the top crossword constructors in Minnesota (and nationally – with Minnesota connections), the tournament is designed to be enjoyed by everyone from experts to amateurs. Last year more than 150 puzzlers and wordsmiths lined up to compete, and at least 200 competitors are expected this time around. Beyond the thrill of the competition, the Minnesota Crossword Tournament features an incredible venue – the beautiful Landmark Center in downtown Saint Paul. Companies that sponsor our events and programs receive statewide recognition, publicity and positive brand affiliation. If you are interested in learning more, please contact Greg Giles, Vice President of Development and Community Engagement, at 651-366-6499 or greg@thefriends.org
---
Meet the Puzzle Constructors
George Barany is a Distinguished McKnight University Professor of Chemistry at the University of Minnesota College of Science and Engineering. His first New York Times puzzle, a collaboration with Michael Shteyman, appeared on a notable Sunday anniversary in January 2006.  He has additional puzzles in The New York Times, as well as others in venues such as the Chronicle of Higher Education and The Wall Street Journal. Solve more than 300 puzzles from Barany and Friends.
Victor Barocas is a Professor of Biomedical Engineering at the University of Minnesota, and he has lived in Minnesota 20 of the past 25 years. He enjoys all sorts of word puzzles and games, especially solving and constructing crosswords. Victor's puzzles have appeared in numerous outlets, including The New York Times, The Los Angeles Times, and the Chronicle of Higher Education. He has helped to organize the crosswords for this tournament for the past two years.
Jon Berman is a native of the San Francisco Bay Area. He married a Minneapolis girl, loves dogs, baseball, and the band Phish. He visited Minnesota once and loved it. Of course, it was the end of May. This is his first published crossword puzzle. (with Andrea Carla Michaels)
Michael David grew up in Minneapolis and has been teaching high school math in Portage, Wisconsin since 2004. He is a graduate of Ripon College, where he majored in Mathematics and French, and holds a master's degree in Mathematics Education from the University of Wisconsin in Oshkosh. His other hobbies include attending Scrabble tournaments and playing piano.
Johanna Fenimore is a former NYC advertising copywriter who currently works for a San Diego company serving the golf industry. She started solving crosswords while at Northwestern University, an activity that developed into a lifelong passion. She is relatively new to construction but has had three puzzles run in The New York Times and two in The Los Angeles Times. Johanna's family moved from California to Edina when she was seven where she loved living until the age of 18 when her family moved again, this time to NYC. Minnesota forever holds a warm place in her heart.
Don Gagliardo is a piano technician who works in the Columbus, Ohio area. His first puzzle was published in The Los Angeles Times in 2006, and he went on to construct many more over the years. C.C. Burnikel joined him as a newbie in 2010, and proved rather quickly that she had the stuff that makes good crossword dreams come true. C.C. and Don worked out an equitable arrangement of collaboration, where each participates in the creation of a theme, the construction of the grid, the word fill, and the clues. C.C. Burnikel runs the LA Times Crossword Corner blog. Together, they've collaborated on more than 50 crosswords for The Los Angeles Times, The New York Times, the Chronicle of Higher Education and the Crossword Club.
David Hanson grew up in the Twin Cities. He graduated from Mariner High School in White Bear Lake in 1982 and from the University of Minnesota with a B.S. in Mathematics in 1986, and works as a Chargemaster Analyst with Gillette Children's Hospital in Saint Paul. He has had crosswords published in The Los Angeles Times and The New York Times, and two of his creations were chosen by Will Shortz as the weekly qualifying quiz for NPR's Sunday Puzzle. Hanson has been a member of the National Puzzlers' League since 1997.
David Liben-Nowell is a faculty member in the computer science department at Carleton College. His research focuses on social networks, and he has written about a dozen crosswords for The New York Times, The New York Sun, Games, and Penguin Classics Crossword Puzzle Collection. Recently, David has been dabbling with Psychobabble, a kind of network-based word game produced by Ultralingua.
Andrea Carla Michaels grew up in Minneapolis across the street from Lake Harriet. After a career in stand-up comedy, "Dating Game" chaperoning and writing for game shows and sitcoms, she now resides in San Francisco. With close to 50 crosswords published in The New York Times and dozens of others from TV Guide to the Los Angeles Times, she is known for her early week puzzles which are on the lighter, easier side, but still fun to solve. As a company/product namer and founder of ACME Naming.com, her life is words, words, words. She also won a Motorhome on "Wheel of Fortune".
Tom Pepper is the Finance Director for the City of Eagan. He has survived 45 Minnesota winters. His few brushes with fame include having Ann Curry as a guest at his wedding and co-constructing crossword puzzles with Victor Barocas. Tom's puzzles have appeared in The New York Times, The Los Angeles Times, and The Chronicle of Higher Education.
Amy Reynaldo is the co-editor of Daily Celebrity Crossword, runs the blog Diary of a Crossword Fiend, and wrote the book How to Conquer the New York Times Crossword Puzzle. She lives in Chicago but attended Carleton College in Northfield and thus has four Minnesota winters under her belt. Amy's puzzles have appeared in The New York Times, Fireball Crosswords, The Wall Street Journal, and The Penguin Classics Crossword Puzzles.
---