Minnesota's Largest Open Book Club

First Tuesdays
(with some exceptions)
5:00 Social Hour
6:15 Discussion
With The Friends of the Saint Paul Public Library, moderator Jeff Kamin brings his unique take on a public book club show to Saint Paul every first Tuesday of the month. Kamin has taken the suburban book club tradition and put it in a public bar where opinions flow freely with a little "liquid courage." Even if you don't like the featured book, he "guarantees a good time at our entertaining discussions." All are welcome to try this moderated reinvention of the book club.
Winter (Oct-April):
The Happy Gnome
498 Selby Ave., Saint Paul

Summer (May-Sept):
Amsterdam Bar & Hall
6th & Wabasha, Saint Paul
---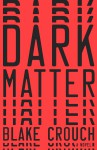 Dark Matter
by Blake Crouch
Wednesday, July 5
"Are you happy with your life?"
Those are the last words Jason Dessen hears before the masked abductor knocks him unconscious.
Learn more and add to calendar>>
---
Wintering
by Peter Geye
Tuesday, August 1
–Winner of the 2017 Minnesota Book Award for Novel & Short Story–
Meet Peter Geye on August 1 and get your book signed!
Learn more and add to calendar>>
---
Saga, Volumes 1 & 2
by Brian K. Vaughan and Fiona Staples
Tuesday, September 5
Saga is an epic space opera/fantasy comic book series that is heavily influenced by Star Wars. 
Learn more and add to calendar>>
---
Books & Bars