Periodically throughout the year, The Friends and Park Square Theatre present an evening in conversation with cast members from the latest Park Square Theatre production. Attendees of the program can purchase half-priced tickets to see the Park Square production.
Visit our secure registration page to reserve your spot at the program. Receive a special reservation code and call Park Square Theatre at 651-291-7005 for standard half-price tickets (subject to availability). Meet the artistic team at the Library for a "Behind the Curtain" discussion and pick up your tickets to the show. Must attend library program to receive discount.
Remember: Friends members always receive a $5 discount on Park Square Theatre tickets.
---
Upcoming Discussion:
Might As Well Be Dead: A Nero Wolfe Mystery
Join The Friends and Park Square Theatre for a conversation with actors from Might As Well Be Dead: A Nero Wolfe Mystery. Eleven years ago, a wealthy St. Paul businesswoman unjustly threw her only son, Paul, out of the family business. Now she wants Nero Wolfe to find Paul so she can make amends. But what if the young man doesn't want to be found? And what if he's the same Paul Herrold on trial for murder? This case draws the great detective and his devoted sidekick into a web of deceit – one that even the master sleuth may regret taking on. Click here to register for the program and receive a special half-price ticket offer.
Add to calendar >>
---
Previous Discussions:

Flower Drum Song
Book by David Henry Hwang; Directed by Randy Reyes
Immigrants in 1950s Chinatown rediscover their roots (and find love) in the new world. American razz-ma-tazz and stylized Chinese opera create a beautiful score that is by turns lushly romantic and showbiz-brassy. Hwang's new script crackles with authenticity and humor.
---

A Raisin in the Sun
By Lorraine Hansberry; Directed by Warren C. Bowles
This fiercely moving portrait of a family living and struggling on Chicago's South Side in the 1950s was the first play written by an African-American woman to be produced on Broadway. The play revolves around the divergent dreams and conflicts within three generations of the Younger family: son Walter Lee, his wife Ruth, his sister Beneatha, his son Travis and matriarch Lena, called Mama. When her deceased husband's insurance money comes through, Mama dreams of moving to a new home and a better neighborhood in Chicago. Walter Lee, a chauffeur, has other plans, however: buying a liquor store and being his own man. Beneatha dreams of medical school.
---
Calendar Girls
By TIM FIRTH; Directed by MARY FINNERTY
Join The Friends and Park Square Theatre for an evening with actors from the upcoming regional premiere of Calendar Girls. When Annie's husband dies of leukemia, she and her friends set out to raise funds for a local charity — by posing for a calendar completely in the buff. Positioned behind strategically placed flower arrangements, cakes, and knitting projects, the women discover the beauty within themselves and one another. When news of the women's hilarious venture spreads like wildfire, the women find themselves exposed in ways they hadn't anticipated, and they reach for a new level of understanding and friendship that will carry them through all the days to come.
---
Charles Dickens' Great Expectations
Based upon the novel written by CHARLES DICKENS; Adapted and directed by JOEL SASS
Join The Friends and Park Square Theatre for an evening with actors from the upcoming production of Charles Dickens' Great Expectations. As a boy, Pip meets an escaped convict, a reclusive widow, and a feisty orphan, and the encounters will change his life in ways he can't imagine. When he comes into unexpected riches, Pip begins the gentleman's life he's always dreamed about but soon realizes the price of his aspirations. Following his 2011 hit Oliver Twist, Joel Sass brings his dynamic, visionary style to the bright and dark sides of ambition, class, and love.
---
My Children! My Africa!

By ATHOL FUGARD; Directed by JAMES WILLIAMS
In 1984, i a segregated township in South Africa, an idealistic teacher believes education and poetry can create a better future for his students. Amid anti-apartheid rioting, Mr. M hopes to offer reconciliation by forming a debate club between his black school and a local white school. But as tensions escalate, students and teacher find themselves on the blurry line between revolution and terrorism.
---
The Language Archive
By JULIA CHO; Direced by RICK SHIOMI
The regional premiere of The Language Archive. George is a linguist, cataloging and recording the disappearing languages of far-flung cultures. But he can't find the words to make his wife stay, not even in his treasured Esperanto. Whimsical, fantastical and moving, Cho's play is a celebration of life, whatever its sorrows.
---
The Color Purple
Based upon the novel written by ALICE WALKER and the Warner Bros./Amblin Entertainment Motion Picture; Book by MARSHA NORMAN; Music and Lyrics by BRENDA RUSSELL, ALLEE WILLIS and STEPHEN BRAY; Directed and Choreographed by LEWIS WHITLOCK III
The unforgettable saga of a woman who finds the love and spirit within herself to triumph over cruelty and crisis. Full of compassion, redemption and music that shakes the rafters, the heartbeat of this story truly sings.
---

33 Variations
By MOISÉS KAUFMAN; Directed by JAMES ROCCO
"33 Variations," plays on memory, music and the moments that transform your life. She has no idea what to do with her daughter. He has no idea what to do with his music. Two centuries apart, a musicologist and Beethoven—the object of her obsession—share a moment that makes time stand still. Can the power of art heal all wounds?
---
A lovely, young woman is dead, and the fortunes of a theatrical producer depend on solving the mystery. The police aren't getting anywhere, so it is time to call Nero Wolfe—an eccentric detective genius who rarely leaves his comfortable brownstone in Manhattan. While maintaining an unbending schedule of tending his 10,000 orchids and dining on fine cuisine, Wolfe and his wise-cracking sidekick, Archie, solve a crime that seems unsolvable.
---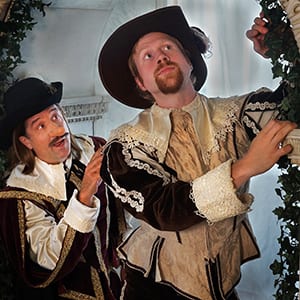 Cyrano
Park Square Theatre's  production of Cyrano is an unabashed romance set in the 1640s, with a swashbuckling hero, a case of hidden identity, and a passionate love story. Flamboyant Cyrano is a skilled swordsman and a gifted poet, yet his unusually large nose prevents him from declaring his love for the beautiful and brainy Roxane, who is enamored of handsome Christian. Will Roxane fall for Christian's dashing looks or Cyrano's daring poetry?
---

Mary T. & Lizzie K.
Step through the doors of the White House dressing room and eavesdrop on a conversation between two women from very different worlds: First Lady Mary Todd Lincoln and her talented seamstress, Lizzy Keckly, a freed slave and successful businesswoman. Alternately bantering and sharing intimacies as Mary dresses for the theater, neither knows that this trip will change their lives and the world as they know it.
---
Sherlock Holmes and the Adventure of the Suicide Club

Actors Steve Hendrickson, Kathryn Wind, and Bob Davis from Park Square Theatre's new production of Sherlock Holmes and the Adventure of the Suicide Club joined us at Hamline Midway Library in June 2013, for a behind-the-curtain glimpse of their work.
In the heart of London, behind the impassive facade of a windowless house, some of Europe's most powerful men gather to play a game. The game is murder. This is The Suicide Club, and they have a new member: Sherlock Holmes—brilliant, perceptive, the greatest detective in the English-speaking world.