The Rose Ensemble believes in the power and beauty of vocal music to stir the emotions, challenge the mind, and lift the spirit. Through virtuosic artistry, scholarly research, and a collaborative work style, they produce imaginative and inspiring performances and educational programs that reawaken the ancient, connecting each individual to compelling stories of human culture and spirituality from around the world.
The Friends partners with the Rose Ensemble throughout the year to provide educational programs, lecture demonstrations, and sing-a-longs that are culturally enriching, enhance library patron experience, and strengthen communities. Considering the extensive research and culturally diverse nature of The Rose Ensemble's programming, libraries provide a wonderful environment for educational outreach.
Join The Friends and enjoy a free ticket upgrade with purchase for most performances throughout the Twin Cities. Mention that you are a Friends member when ordering (not available with website purchases) by calling The Rose Ensemble at 651-225-4340.
Learn more about The Rose Ensemble on their website.
---
"American Roots: Harmonies that Shaped a Nation"
Wednesday, January 11, Noon
FREE Concert Open to the Public
George Latimer Central Library
90 W. Fourth St., St. Paul
In this journey across centuries of folk, spiritual, and cultural traditions, audiences witness the evolution of American musical heritage. From the British Isles came ballads, hymns, fiddle tunes, and country dances that would shape new traditions in the hills of Appalachia, the dance halls of Boston, and the Shaker villages of Kentucky and New York. Four-part harmony spilled out of country churches and became the musical foundation for causes both religious and political, as anti-slavery meetings, tent revivals, and even Presidential campaigns all found power in the marriage of catchy melodies and memorable rhymes.
Meanwhile, vocal lines brewed and bubbled throughout the 19th century, giving birth to what would become Bluegrass and Old-Time Gospel music, with tunes like "I'll Fly Away," "Wayfaring Stranger," and the "Sweet By and By." The Rose Ensemble's engaging stage presence, diverse singing styles, and impressive array of folk and classical instruments provide concertgoers with a bountiful harvest of over 300 years of American harmony – all lovingly woven together through story, song, and plenty of foot stomping!
---
"Musique et Masqueray: Contemplative French Baroque Music in Minnesota's Architectural Gems"
Tuesday, March 21, Noon
Lecture and Demonstration
FREE and Open to the Public
George Latimer Central Library
Andy Boss Community Room
90 W. Fourth St., St. Paul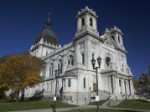 In 17th and 18th century France, theatres and opera houses closed during the 40 days of Lent. The composers of the time, rather than taking a break, turned their attention to church music, allowing professional singers to share their talents with the faithful. The Rose Ensemble's latest concert will be performed in architectural masterpieces created by Emmanuel Masqueray (1861-1917), where they honor the craft of one of Minnesota's great artists with sublime works by Charpentier, Couperin, Bournonville, and DuMont. Learn about the unique history and architecture of the concert venues, as well as that of the music to be performed in this engaging lecture and demonstration.