The Donor Society recognizes The Friends' most generous individual supporters. Society members make substantial annual gifts to The Friends, such as a contribution of $500 or more. Additionally, individuals or families who have made provisions for The Friends in their estate plan automatically become members of our Donor Society. Currently more than 200 individuals belong to the Donor Society.
---
Email Greg Giles, Vice President of Development and Community Engagement to learn more about becoming a Donor Society member, and join us in October for lunch with another award-winning author!
---
The annual Donor Society luncheon recognizes the generosity shown by The Friends' contributors who help support the Saint Paul Public Library. The luncheon is held annually at the Town and Country Club in Saint Paul with a featured author presentation. All donor society members receive a copy of the author's latest book. After lunch and the author presentation, Donor Society members are invited to meet the author and have their books signed.
The 2016 Donor Society Luncheon will be Thursday, October 27
We will feature We Know How This Ends: Living While Dying by the late Bruce H. Kramer with Cathy Wurzer, a book that takes its readers on a meaningful journey of learning, love, loss, and fulfillment.
When educator and musician Bruce H. Kramer received a diagnosis of ALS (amyotrophic lateral sclerosis), he faced the harsh hand that life had dealt him as he had always faced life: he framed his experiences as a path toward learning and growth. Written with wisdom, genuine humor, and down-to-earth observations, We Know How This Ends is far more than a memoir. It is a dignified, courageous, and unflinching look at how acceptance of loss and inevitable death can lead us all to a more meaningful and fulfilling life. The book draws on a blog Bruce created about his life with ASL called The Dis Ease Diary as well as conversations he had with Cathy Wurzer on Minnesota Public Radio's Morning Edition.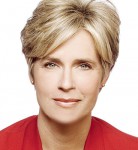 Cathy Wurzer is a multiple Emmy Award winning journalist and the co-host of the longest running public affairs television show of its kind in the country: "Almanac" on Twin Cities Public Television. She is a documentary filmmaker and author of an award winning book about the sites and secrets along U.S Highway 61, Tales of the Road.

---
In past years, featured authors at Donor Society events have included Jack El-Hai, Brett Laidlaw, David Housewright, Kevin Kling, Biloine "Billie" Young, Peter Brown, Lori Sturdevant, Pete Hautman, Mary Logue, Walter Mosley, Rosellen Brown, Patricia Hampl, Judith Guest, Bill Holm, Christopher Cerf, Ellen Hart, Jon Hassler, Vince Flynn and Sandra Benitez.