Saint Paul Receives Library Journal's LibraryAware Community Award
Library Journal award recognizes community engagement with, and awareness of, library resources in Saint Paul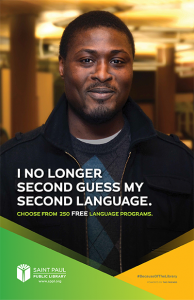 MARCH 31, SAINT PAUL, MINNESOTA – Saint Paul Public Library is one of three libraries in the country to receive the 2015 LibraryAware Community Award given by Library Journal and underwritten by LibraryAware™, a product of EBSCO Information Services. The award recognizes model communities that engage with their libraries to improve the lives of their citizens and create life-long learners.
The Dothan Houston County Library System in Alabama was the first place recipient, Saint Paul Public Library was awarded second place, and third place went to Topeka & Shawnee County Public Library, Kansas.
Saint Paul Public Library, in conjunction with The Friends of the Saint Paul Library, was recognized for its work in raising the profile of the Saint Paul Public Library and the programming it does to support  community priorities including education, racial equality, digital literacy, and workforce development.
In 2014, the Library and The Friends launched a major public awareness campaign to increase library awareness and engagement and to support a $7.8 million capital campaign to fund library renovations. The hashtag, #BecauseOfTheLibrary, reflects the campaign themes of the library's transformational impact on Saint Paul residents and the entire community.
The 2015 LibraryAware Community Award winners are featured in an article in the April 1, 2015 Library Journal. Representatives from Library Journal and EBSCO will present the award to the City of Saint Paul on May 6, 2015.
The LibraryAware Community Award is given annually to a community of any size and its library. The award emphasizes the library's engagement with the community its ability to make its community aware of what the library can do for it—and has delivered on that promise.