More Than Books
Libraries are the best way to strengthen communities because they connect individuals of every age, ethnicity, and background with resources that enrich and improve lives.
There is no better way to understand the impact of the Library than through the personal stories of those who rely on it for learning and inspiration. Zhen Tu first came to the Library as a young girl after moving to the US from China. Watch the story of how the Library helped her become the person she is today.
Has the Public Library Made an Impact in Your Life or Community?
Stronger Libraries for Stronger Communities
"I don't know how to help my child with their homework, so this helps them. We love it here, and the kids want to come."
– Safiya, mother
"This storytime means so much to me because my kids get to learn their native language."
– Po, parent
"The library brings people together. It's a place to come together around community and information."
– Darren, small-business owner
"The best thing about this program is that it has all the resources a low-income student may need to do well in school… along with a safe learning environment for students to work."
– Mai Xee, student
May
24
Thu
Forging the Farmer-Labor Coalition

@ Rice Street Library
May 24 @ 7:00 pm
Learn about the rise of the progressive Farmer-Labor movement, the most successful third party in U.S. history that would go on to form the DFL. Tom O'Connell and Randy Croce will lead a discussion and show clips from their documentary-in-progress.
More about the event
A huge disparity in wealth, human-influenced environmental disasters, and deep political divisions sound like familiar issues to Minnesotans today. The Farmer-Labor movement's response to these conditions of 1917 through 1944 fostered the most successful third party in U.S. history and created a lasting progressive legacy for the state and the nation, including the state park system, progressive income tax, cooperatives, and federal farm subsidies.
Tom O'Connell and Randy Croce talk about the successful grassroots approach of the Farmer-Labor Association, as well as the divisions in the coalition that led to the party's decline and merger with the Democrats to become the DFL. View clips from their documentary-in-progress and take part in a discussion about how the Farmer-Labor movement's goals and strategies offer models for re-evaluating current labor movement activism.
About the Presenters
Tom O'Connell is Metropolitan State University Professor Emeritus in Political Studies and chair of the Farmer-Labor Education Committee (FLEC). He has devoted his academic and activist career to studying and advocating for the progressive goals of the Farmer-Labor Association and other social movements.
Randy Croce is a video producer and instructor at the University of Minnesota Labor Education Service (LES), creating news videos and documentaries on labor issues since 1990. His broadcast programs include "Who Built Our Capitol?" about the workers who constructed the Minnesota statehouse and "If Stone Could Speak" about Italian immigrant stonecutters.
About the Series
The Friends of the Saint Paul Public Library celebrates labor history month with four weeks of programs focused on worker rights. Events range from lectures and discussions to a play reading – all asking us to question what we know of labor history and workers' efforts to organize, seek respect, and confront issues of safety and discrimination over the last century. All programs are free and open to the public.
This Year's Labor History Series Events:
Elizabeth Faue: Rethinking the American Labor Movement
Tuesday, May 1, 7:00 p.m.
Merriam Park Library
William P. Jones: Dr. Martin Luther King, Jr., the Memphis Strike, and Public Sector Unions
Thursday, May 3, 6:30 p.m.
Rondo Community Library
Jimmy Patiño: Raza Sí, Migra No
Monday, May 7, 7:00 p.m.
East Side Freedom Library
It Can't Happen Here: Play Reading and Discussion
Monday, May 14, 7:00 p.m.
Arlington Hills Community Center
Gary Kaunonen: Flames of Discontent
Saturday, May 19, 2:00 p.m.
Hayden Heights Library
Forging the Farmer-Labor Coalition
Thursday, May 24, 7:00 p.m.
Rice Street Library
Jun
5
Tue
Books & Bars: "The Hate U Give"

@ Amsterdam Bar & Hall
Jun 5 @ 5:00 pm
With The Friends of the Saint Paul Public Library, moderator Jeff Kamin brings his unique take on a public book club show to Saint Paul every first Tuesday of the month (with some exceptions). Even if you don't like the featured book, he "guarantees a good time at our entertaining discussions." All are welcome to try this moderated reinvention of the book club. No registration required.
5:00 Happy Hour Social | 6:15 Discussion
---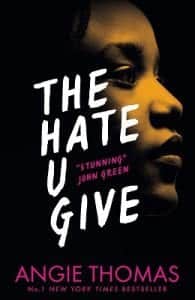 The Hate U Give by Angie Thomas
Join us for a discussion of The Hate U Give ─ a groundbreaking, thought-provoking debut novel inspired by the Black Lives Matter movement, about a teen girl who is the only witness to her friend's fatal shooting by a police officer.
Sixteen-year-old Starr Carter moves between two worlds: the poor black neighborhood where she lives and the fancy suburban prep school she attends. The uneasy balance between these worlds is shattered when Starr witnesses the fatal shooting of her childhood best friend, Khalil, at the hands of a police officer. Khalil was unarmed.
Soon afterward, Khalil's death is a national headline. Some are calling him a thug, maybe even a drug dealer and a gangbanger. Starr's best friend at school suggests he may have had it coming. When it becomes clear the police have little interest in investigating the incident, protesters take to the streets and Starr's neighborhood becomes a war zone. What everyone wants to know is: What really went down that night? And the only person alive who can answer that is Starr.
But what Starr does — or does not — say could destroy her community. It could also endanger her life.
Jun
27
Wed
Behind the Curtain with Park Square Theatre: "Ken Ludwig's Baskerville: A Sherlock Holmes Mystery"

@ Saint Anthony Park Library
Jun 27 @ 7:00 pm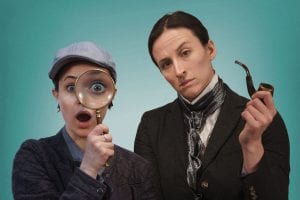 Join The Friends and Park Square Theatre for an evening with cast members from the upcoming production of Ken Ludwig's Baskerville: A Sherlock Holmes Mystery.
The game's afoot in this hilarious thriller that's anything but elementary! Five actors play over 40 comical characters in this fast-paced comedy about everyone's favorite detective solving his most notorious case. When the wealthy Henry Baskerville is threatened by the fable of a bloodthirsty hound on the moors, Holmes and Watson are on the case to sniff out the culprit.
Enjoy a behind-the-scenes look at this evening of mayhem and mystery with cast members McKenna Kelly-Eiding (Sherlock Holmes), Sara Richardson*(Watson), and set designer Eli Schlatter.
SPECIAL HALF-PRICE TICKET OFFER:
Attendees of the library program are invited to purchase up to four (4) half-priced, standard tickets to see a performance of the show at Park Square Theatre (June 28 – August 5). All tickets must be purchased in advance of the June 27 discussion program at Saint Anthony Park Library and can be picked up that evening. Register for the event below and get the code to access the discount.
*Member of Actor's Equity Association
The need for a strong library is greater than ever.