Each day leading up to the April 16 announcement of the Minnesota Book Awards, and in collaboration with community editors from the award-winning Saint Paul Almanac, we highlight one of the thirty-two finalists. Today we feature 2016 Children's Literature finalist: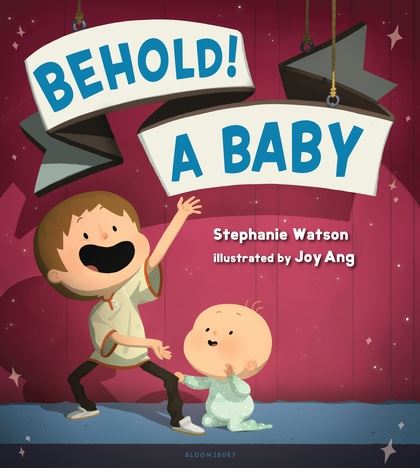 Behold! A Baby by Stephanie Watson, illustrated by Joy Ang
Published by Bloomsbury Children's Books
Category Sponsor: Books for Africa
Synopsis by Clarence White, Saint Paul Almanac:
When I was a little more than a year old, I got a baby sister. I was not happy. At least that is what I am told. And it's an almost universal sibling experience. Behold! A Baby takes us to a theater where, on the stage, an announcer-dad hypes the wonder of a baby for an audience that watches in wonder. They are all impressed—all except the newly minted big brother. Author Stephanie Watson illustrates that golden map that leads the way between the jealousy of an older sibling upon the arrival of a new family member to claiming, with pride, a new status as an older sibling with astonishing special powers that only a big sibling can have! Billie B. Little of Book Page lauds the picture book for demonstrating a family dynamic where big "brother has received the requisite amount of positive feedback for his amazing feat, he becomes his best self." Artist Joy Ang uses colorful and expressive illustrations to bring the message to life. Behold! A Baby reminds of how exciting it is to be a sibling.
Author Bios: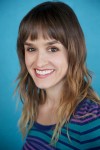 Stephanie Watson is a product of the Minneapolis Public School system (Clara Barton Open, South High) and attended Sarah Lawrence College in New York. She has been the recipient of grants from the Minnesota State Arts Board and the Jerome Foundation. As a child, she was quite fond of her library and spent so much time immersed in a concoction of stories that she emerged out of the goo as a storyteller. She is an actor who, in her youth, appeared in several productions at Children's Theater Company. This experience, balanced with a share of television viewing, helped inspire her adult craft.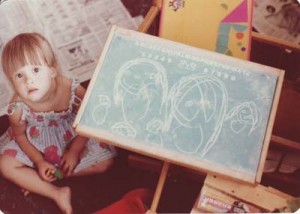 Watson is the author of The Wee Hours, Elvis & Olive, and Elvis & Olive: Super Detectives. In addition to writing stories, she also teaches writing workshops to children and adults. And she is the mother of a beautiful tornado of joy named Ivy. She lives in Minneapolis, Minnesota.
Joy Ang is the illustrator of Mustache Baby, Petey and Pru and the Hullabaloo, and I Will Not Read This Book. In addition to illustrating children's books, she works as a character designer on the television series Adventure Time. Joy graduated from the Alberta College of Art and Design with a Bachelor of Design in 2007 and got her start making art professionally with Udon Comics. She lives in Edmonton, Alberta, with her husband, Josh, and their cat, Wheatley.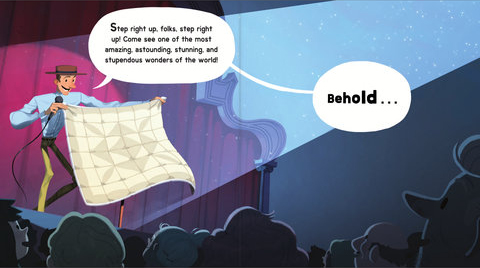 Joy Ang is on Facebook and Twitter.
Excerpt from Behold! A Baby:
Baby: Diggy DUBBY bubby! Bo babby booby!
Announcer/dad: The amazing, astounding baby is trying to tell us something. But What?
Big Brother: Duh. So obvious.
Announcer: Unfortunately, folks, there's no one on earth who understands what this sensational baby is saying.
Big Brother: I DO!
Reviews:
"Behold! A Baby by Stephanie Watson tackles the age-old theme of sibling rivalry and manages to solve one family's conflict within the colorful pages of an appealing picture book… While daddy tells the world about the spectacular and marvelous new baby, big brother does everything he can to deflect the attention back to himself." — Billie E. Little, BookPage
"While awestruck emcee Dad extols the baby's amazing, never-before-witnessed talents before a live audience—accomplishments include smiling, eating a banana, and babbling—older brother grumbles 'Big deal' from the cheap seats…yet another picture book that shines a spotlight on the older kid who decides that it's OK for babies to be stars."— Kirkus Reviews
"A great 'so you're going to be a big brother'-time book."— GoodReads
---

Award winners will be announced at the 28th Annual Minnesota Book Awards on Saturday, April 16, 2016 at the Union Depot in Saint Paul.
The evening features a Preface Reception with complimentary passed wine and cash bar, author meet-and-greet, book sales and signing; the Awards Ceremony with live music, celebrity presenters, artisan cheese plates and breads, complimentary wine and lemonade, with emcee Stephanie Curtis of MPR; and the Epilogue After-Party with complimentary champagne, sumptuous desserts, and additional live music. Tickets now on sale, or click here for more information.
---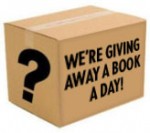 Today's winner: Jamie Yanisch. (We'll be in touch via email, and arrange getting the book to you!)
Want your chance to win? Subscribe to our email to get news and program updates sent directly to your inbox, and be automatically entered to win.