Each day leading up to the 2019 Minnesota Book Awards Ceremony, we'll be featuring an exclusive interview with one of our 36 finalists. Learn more about these incredible local writers and gear up to see the winners announced live in person April 6.
Interview with Mary Moore Easter, author of The Body of the World
Category: Poetry, sponsored by Wellington Management, Inc.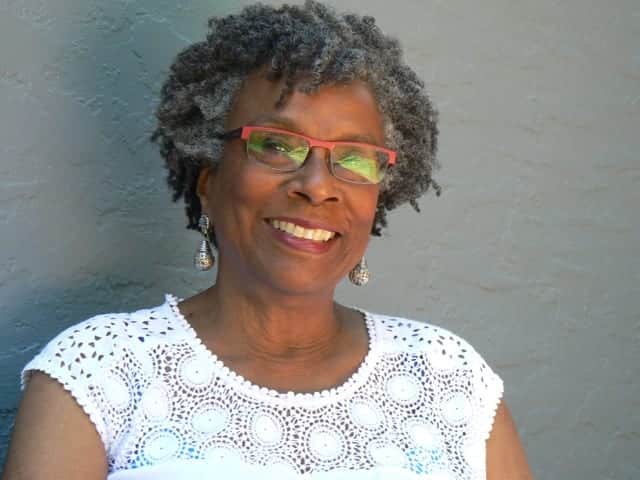 How does it feel to be a Minnesota Book Award finalist?
Being a MN Book Award finalist feels fantastic, incredible, like I've been heard and answered by a world larger than the voices in my head. Amazing, widening experience!

Tell us something about your finalist book that you want readers to know.
The Body of the World is about the historical black woman, the contemporary black woman and the personal black woman, the one that suffers, births, endures (or "persists" in the current usage), gets insulted and protests, is misinterpreted, forges ahead, frequently mistaken for someone else as she looks at the world. It's about her joys and her exchanges with others, including a conversation with her fur coat. Alice Walker said the black woman is "the mule of the world." Yes. And I say the black woman is "the body of the world."

Let us know a little bit about your writing life. What brought you to a writing career and how did you become a published author?
I came to a writing career in an overlap with a dancing career. I got deeply serious about writing before my knees wore out. By the time I spoke in words on the page instead of mainly in movement, new parts of me turned up with new inflections that surprised me. I studied at Cave Canem after years of support from my poetry group at home. I sent out poems that got published. But the book is a much bigger thing. The oldest poem in it is from 15 yrs ago, the newest added after the book was being edited for publication in 2018.

Minnesota is often ranked highly as a state that values literature and reading. In your experience, what is it about our state that makes it such a welcoming place for writers and book creators?
Minnesota seems largely populated with more writers than hockey players. It is thrilling company to be in conversation with so many different kinds of voices. Maybe it's the weather that keeps us at our writing tables, the space and time for reflection echoed in the landscape that has so many points of entry, through soil and water to the core of the earth.

What is something you are good at that few people know about?

I am a champ at procrastination sometimes more properly called percolating. That's the part that people don't see.
What do you love about libraries?

I love libraries because when so many bookstores have been corporatized and the internet yields a bewildering admixture of trash and gold, libraries still supply you with the non-corporate-value and the original source—free!
About Mary Moore Easter
Mary Moore Easter is a Prairie Schooner Book Prize finalist (2017) with The Body of the World, her first full-length poetry collection. Her chapbook is Walking From Origins (Heywood Press). A sampling of her publications includes Poetry, Waterstone, Calyx, NY Times, The Portable Boog Reader and Prairie Schooner. Honored by Bush and McKnight fellowships and The Loft Creative Non-Fiction Award, she is a Pushcart Prize-nominated poet; Cave Canem Fellow; veteran dancer/choreographer and emerita professor of dance at Carleton College. She holds a B.A. from Sarah Lawrence and an M.A. from Goddard.