Each day leading up to the 32nd annual Minnesota Book Awards Ceremony, we'll be featuring an exclusive interview with one of our 36 finalists. Learn more about these incredible local writers and gear up to see the winners announced live in person April 28.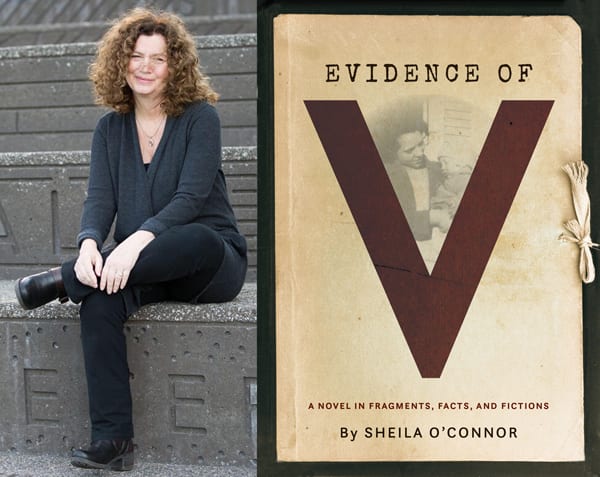 Interview with Sheila O'Connor, author of Evidence of V: A Novel in Fragments, Facts, and Fictions, part of the Novel & Short Story category, sponsored by College of Saint Benedict/Saint John's University
How does it feel to be a Minnesota Book Award finalist?
I'm absolutely thrilled to be among the finalists for the Minnesota Book Awards. In a state filled with outstanding writers and a wealth of remarkable books, it's an incredible honor to have this work recognized. 
Tell us something about your finalist book that you want readers to know?
Inspired by the true story of my maternal grandmother's six-year incarceration as a fifteen-year-old girl for an unplanned pregnancy, Evidence of V: A Novel in Fragments, Facts, and Fictions incorporates multiple genres as well as historical documents to bring to light the little-known practice of incarcerating girls for "immorality" in Minnesota and across the United States. The book's form mirrors my efforts to reconstruct a story from the pieces of evidence I was able to uncover. In terms of both content and form, this project is in many ways the culmination of all I've hoped to achieve as a writer.
Share something about your writing process and preferences. For instance, where is your favorite place to write?
I have a writer's studio in my backyard that provides the kind of uninterrupted time I need to focus on long projects. Although I do an immense amount of research for my novels, when I'm actually constructing the fictional dream, I prefer to work away from the internet in order to fully enter the story. When I'm deep into a book, I try to write every day, including weekends, until I see the draft to completion. In that way, I come to know the story. I'm also a great fan of writing residencies, and am deeply grateful to the Anderson Center at Tower View whose gift of time made this book possible. 
Minnesota has a reputation as a state that values literature and reading. In your experience, what is it about our state that makes it such a welcoming place for writers and book creators?
It's a wonderful thing to create in the company of others, to be motivated by the powerful work your colleagues are creating. We have exceptional MFA programs, outstanding small presses, a wealth of readings and other literary events, and so very many talented writers. I'm continually inspired by my fellow writers and the beautiful books they are writing and publishing.
What is something you are good at that few people know about?
I think one of my gifts is making connections between people and serving as a bridge. It's a real pleasure to have introduced two strangers who have gone on to have long working relationships or friendships, or to connect people into organizations where they've found new opportunities.  
What do you love about libraries?
Libraries make literature and information possible for so many of us. Regardless of income or circumstance, we can enter a library for knowledge and books and stories, and infinite information. I loved the library as a child, and to this day I cannot walk into a library without a sense of awe and gratitude. As a writer and researcher, both the collections and the reference librarians are invaluable. This book would not have been possible without the Gale Family Library at the Minnesota History Center, the periodical archives at the Central Library, dissertations held in libraries across the United States, and the reference librarians at Hamline University who were heroic. 
Sheila O'Connor is the Minnesota Book Award-winning author of six novels for adults and young people. She is a professor of Creative Writing at Hamline University and fiction editor for Water~Stone Review.
See the winners announced live at the Minnesota Book Awards Ceremony! Presented by Education Minnesota; media sponsor: Star Tribune.