Each day leading up to the 32nd annual Minnesota Book Awards Ceremony, we'll be featuring an exclusive interview with one of our 36 finalists. Learn more about these incredible local writers and gear up to see the winners announced live in person April 28.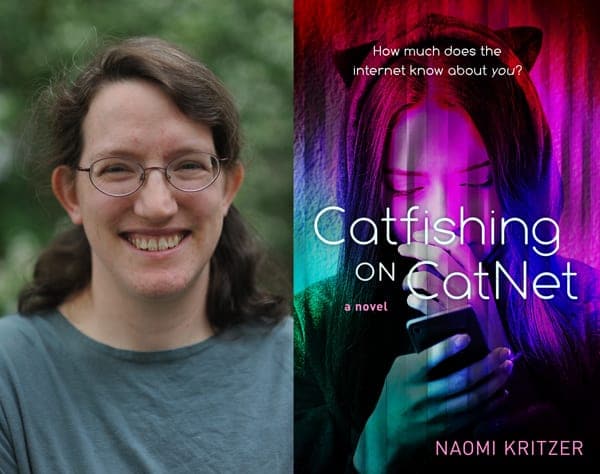 Interview with Naomi Kritzer, author of Catfishing on CatNet, part of the Young Adult Literature category, sponsored by United Educators Credit Union
How does it feel to be a Minnesota Book Award finalist?
It is a huge honor and feels amazing!
Tell us something about your finalist book that you want readers to know?
It is loosely based on my (Hugo Award-winning) short story Cat Pictures Please, which you can still find online:
Share something about your writing process and preferences. For instance, where is your favorite place to write?
When I'm outlining or brainstorming, I use a notebook of unlined paper, like a sketch diary. I like to write in my sunny living room but discovered at some point that the ergonomics of a couch, hassock, and lap desk will lead quickly to back problems, so I usually write at a desk in my home office.
Minnesota has a reputation as a state that values literature and reading. In your experience, what is it about our state that makes it such a welcoming place for writers and book creators?
The mix of natural beauty and terrible weather: you're stuck spending a lot of time indoors, might as well get some writing done.
What is something you are good at that few people know about?
I can cook a meal and get everything off the stove and on the table at the same time.
What do you love about libraries?
One of my favorite places to browse is the New Nonfiction shelf. I read a LOT of nonfiction, and I like having the whole sweep of possibility distilled to a couple of shelves that I can poke around in, because I always go home with something I wouldn't have thought to go looking for.
Naomi Kritzer is the author of the short story Cat Pictures Please, which won the Hugo Award and the Locus Award. She lives in Saint Paul with her family.
See the winners announced live at the Minnesota Book Awards Ceremony! Presented by Education Minnesota; media sponsor: Star Tribune.