Each day leading up to the 32nd annual Minnesota Book Awards announcement, we'll be featuring an exclusive interview with one of our 36 finalists.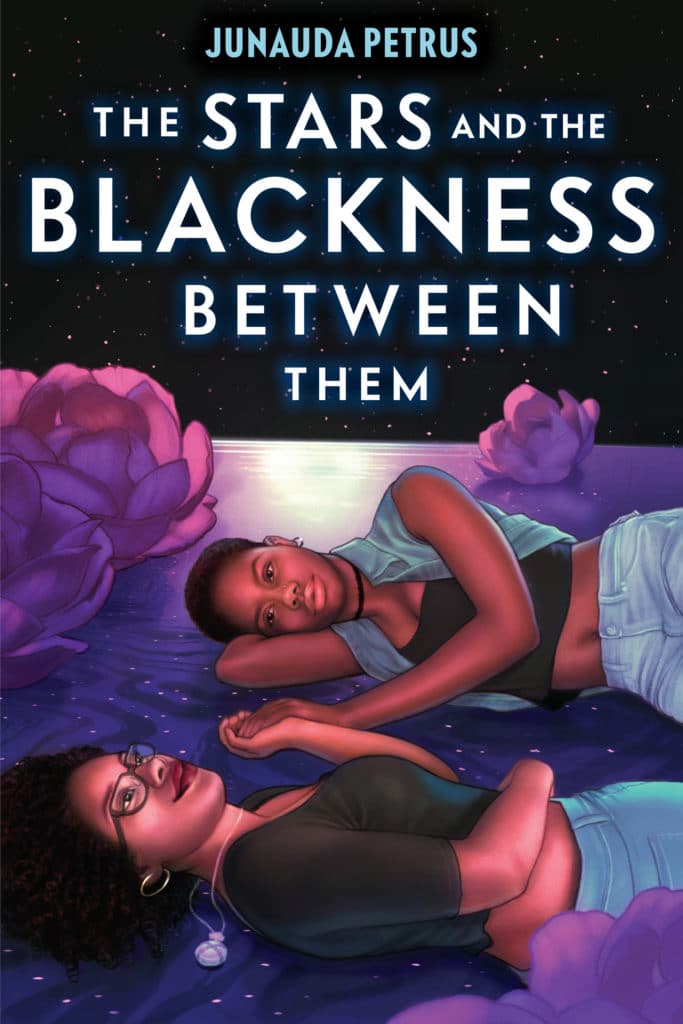 Interview with Junauda Petrus, author of The Stars and the Blackness Between Them, part of the Young Adult Literature category, sponsored by United Educators Credit Union
How does it feel to be a Minnesota Book Award finalist?

I feel so joyous, grateful and proud to have my unapologetically Black and queer story be recognized in my Minnesota literary community.  I feel like my book is a very Minnesotan book as well as very Black-diasporic, magic-realist, sensual, and a good ol' coming of age tale. The girls in this book represent so many Black and queer kids (and kids of all backgrounds), including myself, who need to know we exist in a special way and to find ourselves in the delicious fantasy of a book. So in short, to be a finalist makes me feel happy and yummy inside!
Tell us something about your finalist book that you want readers to know.
That in many ways, it is an offering of healing, reflection, humor and sweetness. It is hands down a young adult book and provides that feeling of liminal limitlessness that exists in that time of life.  Specifically in the need to question, be curious and find one's truth through pleasure, sensuality and existential ponderings. It is also very cosmic, astrological, witchy and tender. And it'll make you laugh, cry and feel gooey inside, so I've heard. 
Share something about your writing process and preferences. For instance, where is your favorite place to write?
I have a desk that is super cute and is between two windows and my altar and plants, and I NEVER write there, lol. I end up writing on one particular corner of my couch where the sun hits first in the morning. I am an early morning person, by no virtue of my own, it's how I'm wired I think. I wake up around 5:30am. It's a perfect time for me to write because I'm a wife and a mama, and it is the time of the day where I get the universe all to myself and can be emotional, weird and obsessed, like I get when I write with no audience or distraction. I become an angsty teen waterfalling onto the page and I love it. I don't write every day, but when I do write it feels like prayer. And I drink a lot of tea, too.
Minnesota has a reputation as a state that values literature and reading. In your experience, what is it about our state that makes it such a welcoming place for writers and book creators?
I love our writing community and the brilliance within it. We love on each other, celebrate each other and bask in each other's delicious words. I love how many limitless expressions, cultural soulfulness, and dimensions that exists within the Minnesota literary scene, especially in the BIPOC and LGBTQIA+ communities. I also think it is a very nourishing, intergenerational and experimental scene in ways that have pushed and blossomed me as a writer. I think of something like the Minnesota Prison Writer's Workshop, which I have taught with and have been blessed to hear some of the best writing of my life through my participation in their programming. So many voices that are locked up, hold wisdoms about how our society deals with the most vulnerable within our communities.
What is something you are good at that few people know about?
I can cook and dance good. I also am decent at astrology and tarot. I think people might know these things about me, though.
What do you love about libraries?
As a kid, I would go to the Franklin library on Franklin Avenue and it was literally like a portal. I would leave with books from every section, all kinds of fiction books as well as books on studying French, cooking, and Black history, stuff I wasn't learning in school. The librarians knew me and my preferences and catered to me and my curiosity. Not because I was rich or powerful, or even an adult, but because I walked in those library doors and was breathing and seeking. It is the first place I experienced a dimension of social justice and in my nerdery, absolute utopia. Libraries are one of the spaces in our communities that welcome lost and wounded souls. It's how the world should be, free, accessible, forgiving and nourishing.
Junauda Petrus is a writer, pleasure activist, filmmaker, and performance artist, born on Dakota land of Black-Caribbean descent. She lives in Minneapolis with her wife and family.