Cathy Ryan will be honored for her artist's book Chronicle.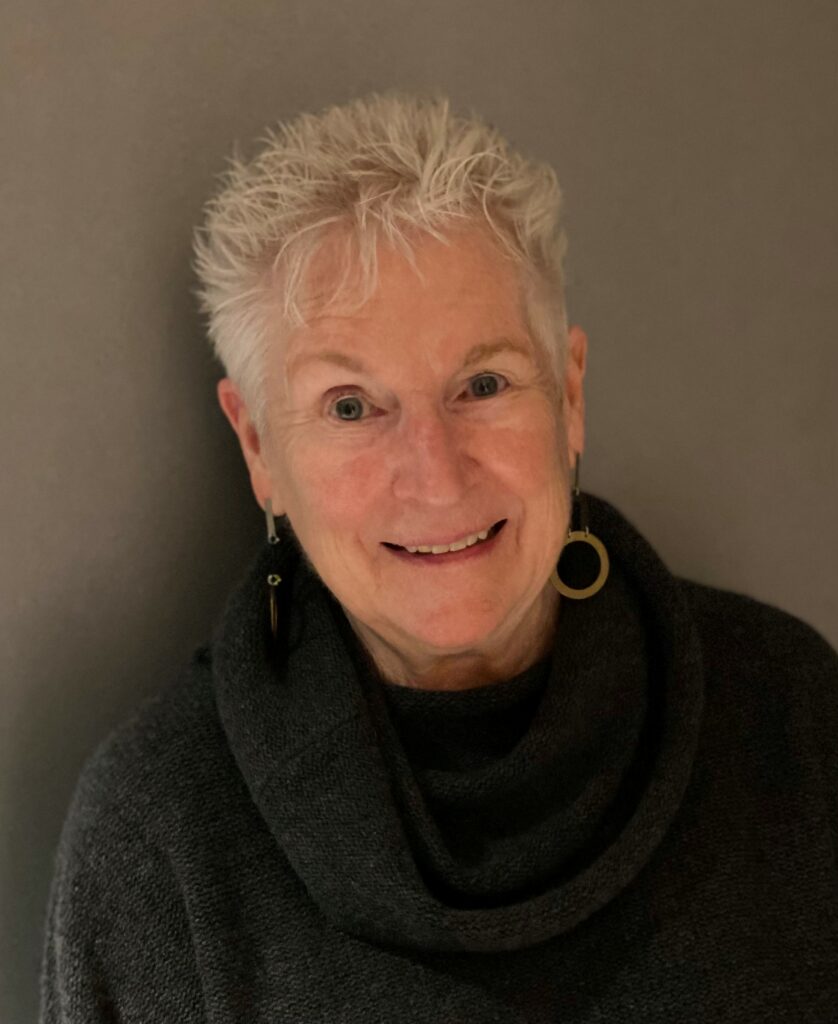 November 30, 2021, SAINT PAUL, MN – The Friends of the Saint Paul Public Library has named Cathy Ryan as the winner of the 2022 Minnesota Book Artist Award for her new artist's book Chronicle. This biennial award is presented as part of the Minnesota Book Awards with the Minnesota Center for Book Arts (MCBA) and recognizes a Minnesota book artist or book artist collaborative group for excellence of a new artistic work. Winners also show demonstrated proficiency and quality in the book arts through supporting previous work, as well as an ongoing commitment and significant contributions to Minnesota's book arts community.
Cathy Ryan's work in book arts explores the significance of human interaction with the natural world and with Chronicle speaks to the universal experience of 2020 and the global pandemic. As described by Ryan, "Chronicle is about the stark contrast between the relative tranquility of meditation on the reassuring cycles of nature, amid the chaos and uncertainty of political turmoil and a worldwide health crisis."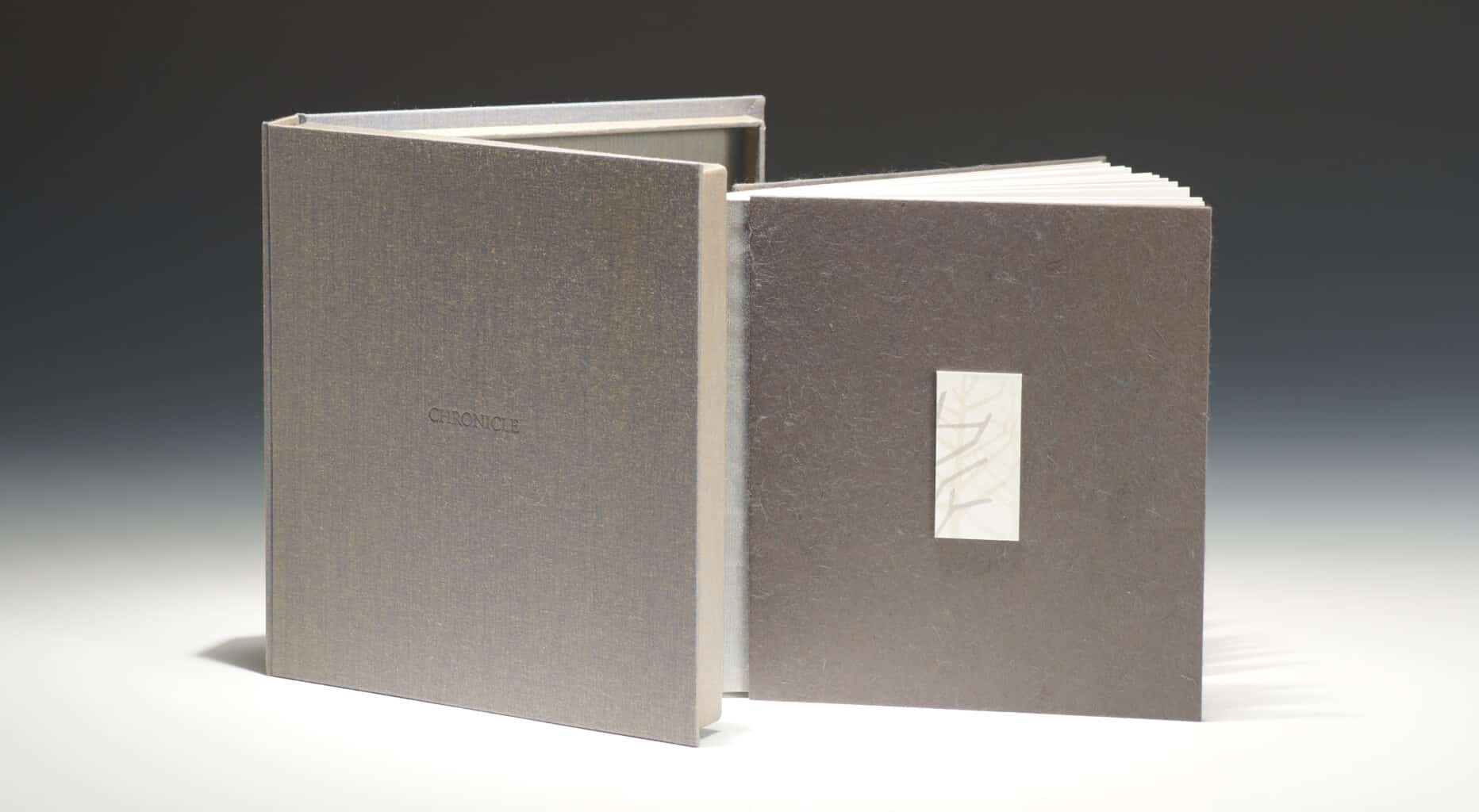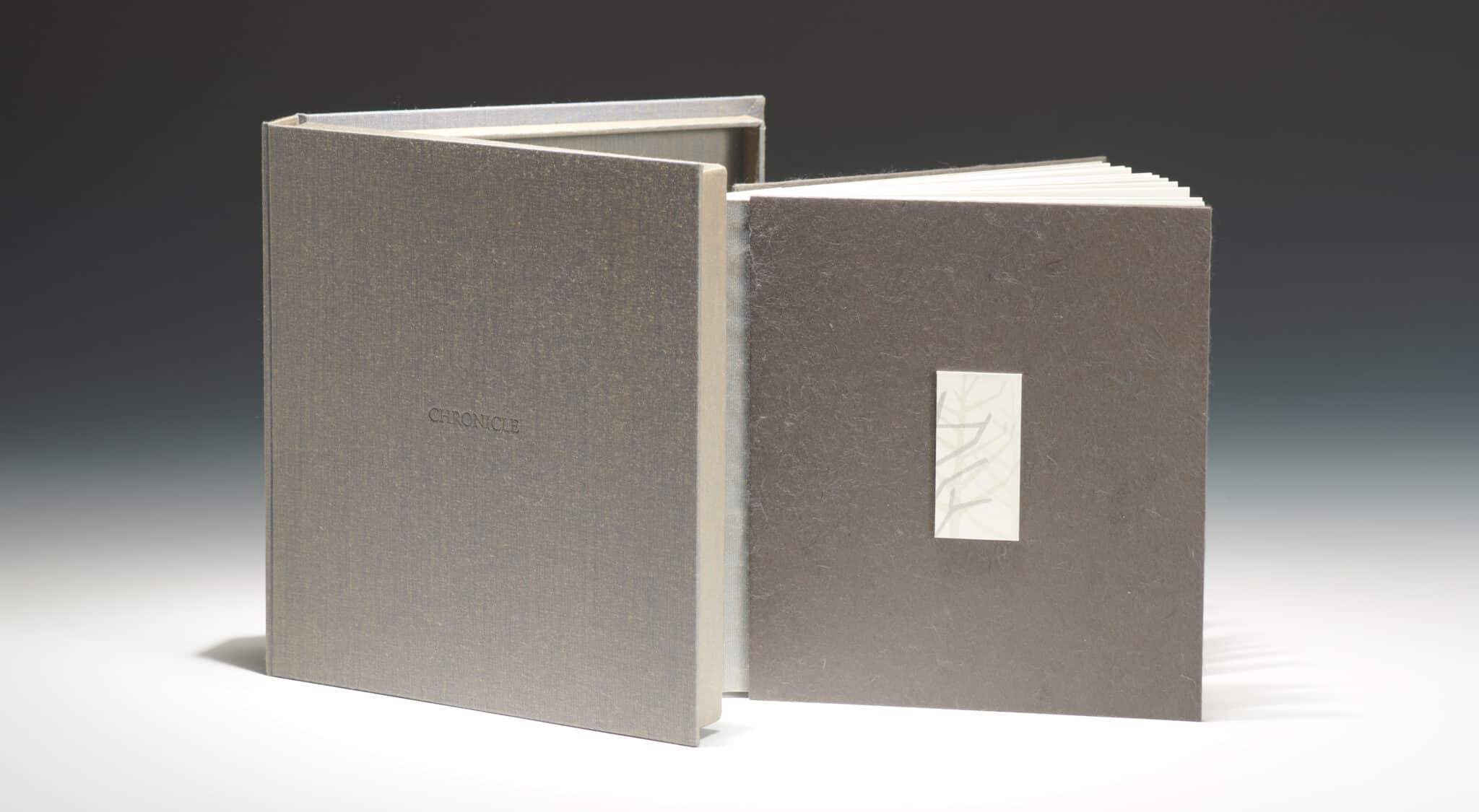 Members of the award committee praised Ryan's impeccable craftsmanship and content that poignantly lays out the contrast between public and private experiences as the year unfolds. Tension is created by Ryan's exploration of the passing year through an intimate connection with the natural world and an ever-present news ticker visually anchoring each page and grounding the reader in the shared public experience of the pandemic. Chronicle is a very intentional work that proves how Ryan stretches herself on all levels: the form, presentation, and printing all fulfill exactly the role they need to, coming together in a powerful and evocative book with particular resonance for today.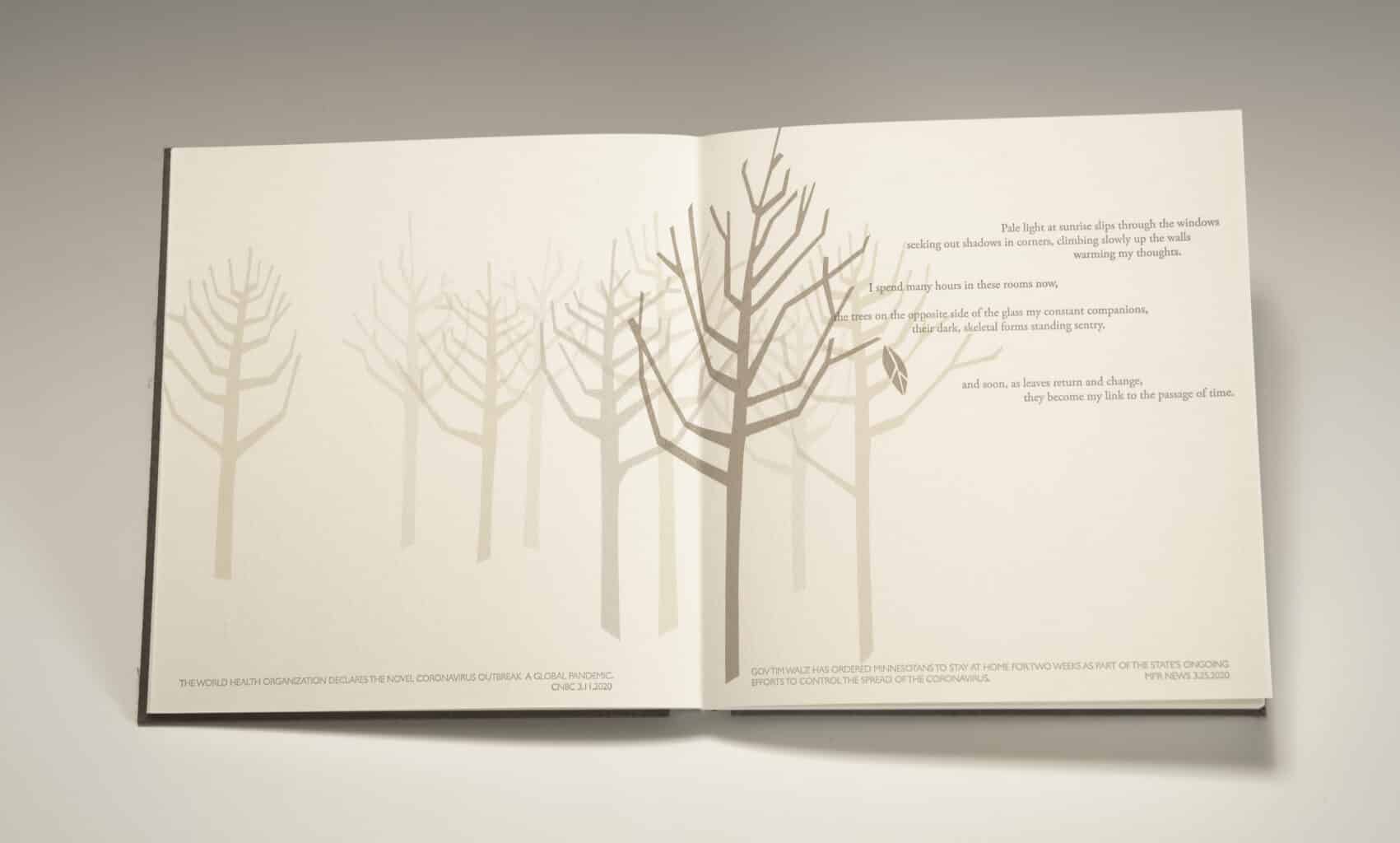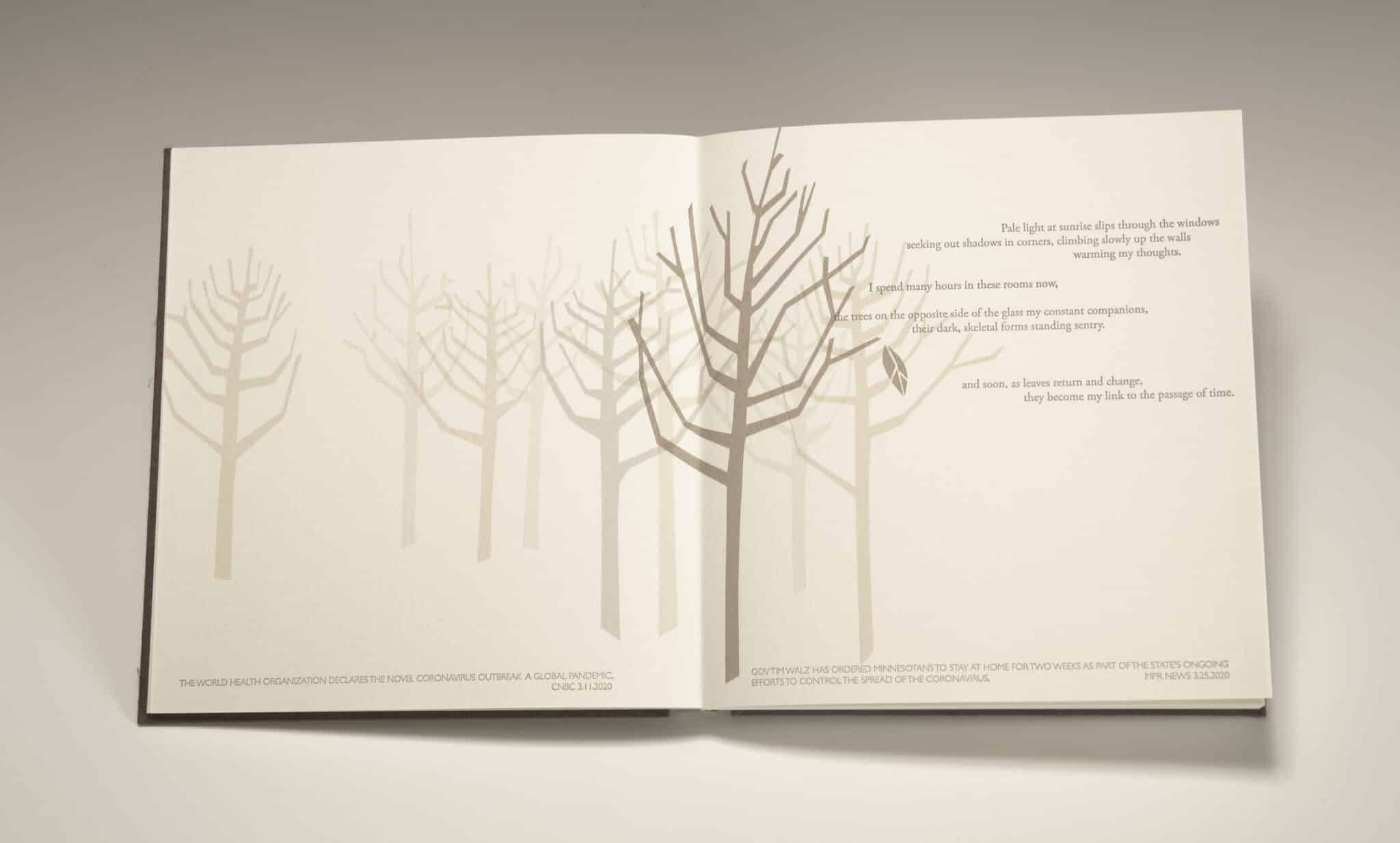 Cathy Ryan is a book artist and printmaker based in Minneapolis, MN. She was awarded a 2011/2012 Jerome Book Arts Fellowship, and her work is included in the 2012 Quarry publication 1000 Artist Books.
In 2014, she was an artist-in-residence at the Anderson Center for Interdisciplinary Studies in Red Wing, MN, and in 2015, she co-curated The Contained Narrative: defining the contemporary artist's book at Minnesota Center for Book Arts. Most recently, she was awarded a second Jerome Book Arts Fellowship for 2017/2018 and an artist residency in Salzburg, Austria. Her work has been exhibited both nationally and internationally and is included in private and public collections including the Minnesota Historical Society, Hennepin County Library Special Collections, and the University of Wisconsin-Milwaukee Libraries Special Collections. She holds a bachelor's degree in art from San Francisco State University, and a post baccalaureate certificate in Print, Paper, Book from Minneapolis College of Art and Design.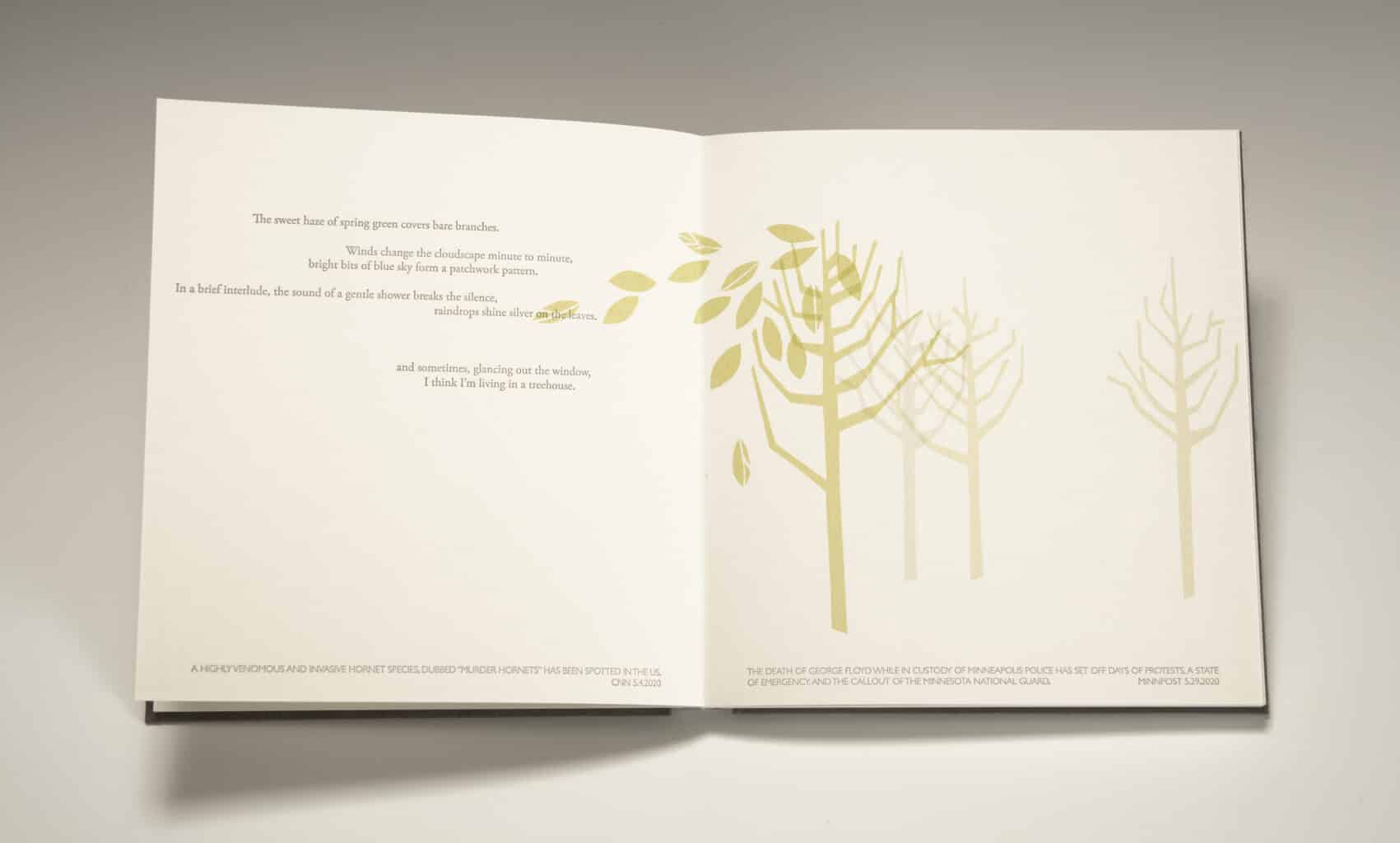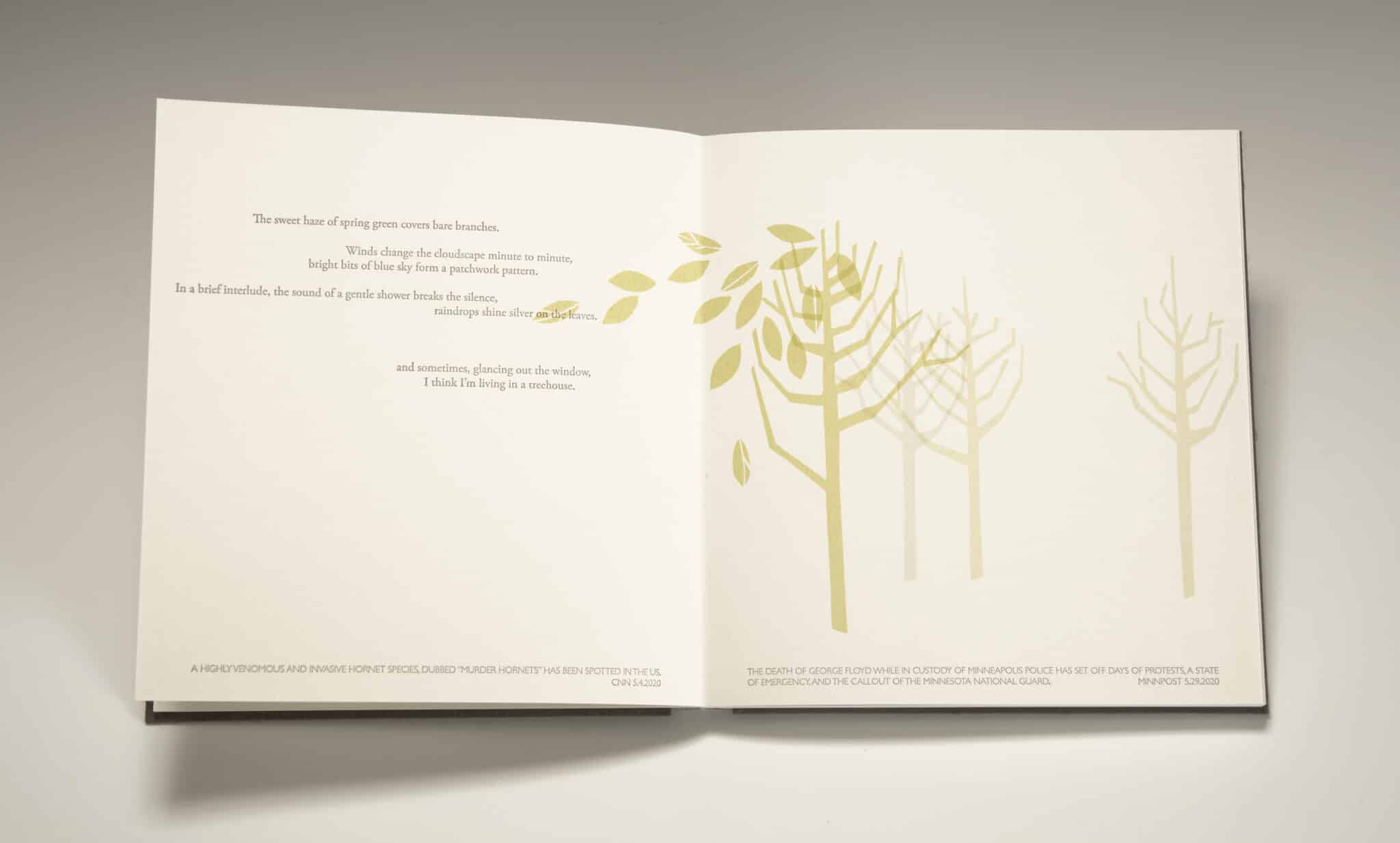 An exhibition celebrating Chronicle will be on display January 13 – March 6 at Minnesota Center for Book Arts, located in the Open Book building (1011 Washington Avenue South, Minneapolis). Open gallery hours are every Saturday from 10 am – 5pm, with additional hours added as MCBA continues its phased reopening.
An opening reception will take place on Thursday, January 20, 2022 from 6:00 – 9:00 p.m. in MCBA's Main Gallery, and a virtual artist talk will be held on Monday, January 31 at 7:00 p.m. Both events are free with registration forthcoming. Ryan will also receive special recognition and an award at the 2022 Minnesota Book Awards Celebration in April. 
About the Minnesota Center for Book Arts (MCBA):
Minnesota Center for Book Arts (MCBA) is a visual arts nonprofit organization that supports creative expression through traditional and contemporary book arts, including papermaking, bookbinding, and letterpress printing. MCBA's philosophy and artistic vision challenges its artist community to think beyond the traditional notion of the "book." Today, books can be bound and unbound, fabricated into sculptures, interpreted as metaphor, experienced as installation or performance, and interacted with virtually. What unites this varied work is a focus on the interdisciplinary expression of narrative.
About the Minnesota Book Awards:
The Minnesota Book Awards is a year-long program of The Friends of the Saint Paul Public Library that connects readers and writers throughout the state with the stories of our neighbors. The process begins in the fall with book submissions and continues through winter with two rounds of judging. Winners are announced at the Minnesota Book Awards Ceremony each spring. Woven throughout the season are events that promote the authors and connect the world of Minnesota books – writers, artists, illustrators, publishers, editors, and more – to readers throughout the state. In recognition of this and its other statewide programs and services, the Library of Congress has recognized The Friends of the Saint Paul Public Library as the state's designated Center for the Book. For more information visit thefriends.org/mnba.