Each day leading up to the April 16 announcement of the Minnesota Book Awards, and in collaboration with community editors from the award-winning Saint Paul Almanac, we highlight one of the thirty-two finalists. Today we feature 2016 Young People's Literature finalist: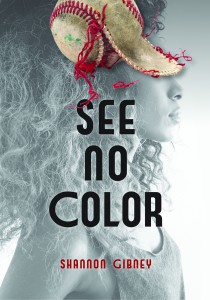 See No Color by Shannon Gibney
Published by Carolrhoda Lab/Lerner Publishing Group
Category Sponsor: The Creative Writing Programs at Hamline
Shannon Gibney's See No Color is receiving an unusual amount of attention, not just among those who read and comment on young people's literature, but it is proving to be instructive in the ongoing conversations on identity, race, and the transracial adoption industry. Gibney's protagonist, Alex, is a teenage baseball player, a girl, and a transracial adoptee. She is a great player, much of it due to her coach, who is her dad and a former Major League baseball player. He, along with the rest of her family, is white; she is black.
Or "half black" as her father insists. The invisibility of her unavoidably obvious identity adds to the questions about who she really is. Add to this the discovery of previously hidden letters from her biological father, life changes including an emerging love life, and living gender roles that are as complex as her racial identity. Through the story of Alex, Gibney brings context to broader questions: What does it mean to be biracial in a white family? Through this story and other transracial experiences, it helps us look at the question of what it means to grow up in/as a multiracial world. This work both touches America's heart and aids much-needed formal and informal scholarship on what it means to be a part of this American family.
Author Bio: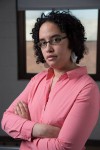 When she was 15, Shannon Gibney's father gave her James Baldwin's Tell Me How Long the Train's Been Gone, a book that changed her life and made her see the possibilities of the written word. After this, Shannon knew she needed to read everything Baldwin had ever written, and that she wanted to emulate his strategy of telling the most dangerous, and therefore liberating kind of truth, through writing. At Carnegie Mellon University, Shannon majored in Creative Writing and Spanish. She earned her M.A. and MFA at Indiana University's Graduate Creative Writing Program. She has been the editor of the Indiana Review and managing editor at the Minnesota Spokesman-Recorder, the state's oldest Black newspaper. She is a Bush Artist Fellow and, in summer 2007, joined the faculty in English at Minneapolis Community and Technical College. She lives with her husband, Ballah D. Corvah, their son Boisey, and daughter Marwein, in the Powderhorn neighborhood of South Minneapolis.
Read Shannon Gibney's Blog
Shannon Gibney is on Twitter
Reviews:
"See No Color is about identity, about race, about family and adoption—transracial adoption more specifically—about communication and about secrets, about ingrained racism and sexism, about how withholding information from someone is making up their mind for them. It's about the difference between protecting a loved one and protecting yourself, about how avoiding confrontation can make the confrontation far worse down the line. It's about belonging to two worlds, but not feeling quite right in either… Gibney tackles a LOT of complex emotions and relationships in less than 200 pages, and she pulls all off beautifully."—Leila Roy, "Take a Close Look at Difference," Kirkus Reviews
In See No Color, author Shannon Gibney explores the myth of colorblindness in the context of transracial adoption in a story about Alex(andra), a biracial teen who was adopted by White parents as a very young child… no matter how much her parents wish it were otherwise, Alex's experience in the world is different than the rest of her family's. They love her, and they genuinely believe that is enough. Of course it isn't enough."—Megan Schliesman, Reading While White
"The language, the graduated awareness of the protagonist, the confusion, the longing, the realistic highs and lows of her emotional state — this character just jumps off of the page."—Turning Pages
Bank Street College Center for Children's Literature has chosen See No Color as a "Best Children's Book of the Year 2016."
Author Interview:
Interview with author Shannon Gibney – The Pirate Tree
Listen: Black Market Reads
Book club podcast hosts Erin and Junauda are joined by Namir Fearce and Case Wilson, two youth readers who got to interview author Shannon Gibney about her debut young adult novel, See No Color. They discuss the novel's themes, which include transracial adoption, sports, gender, parenting and mixed race identity. They also talk about Macklemore's education on white privilege and Chelsea Handler's exploration of racism.
Watch:
SELCO communications specialist Jennifer Harveland reviews See No Color by Shannon Gibney:
---

Award winners will be announced at the 28th Annual Minnesota Book Awards on Saturday, April 16, 2016 at the Union Depot in Saint Paul.
The evening features a Preface Reception with complimentary passed wine and cash bar, author meet-and-greet, book sales and signing; the Awards Ceremony with live music, celebrity presenters, artisan cheese plates and breads, complimentary wine and lemonade, with emcee Stephanie Curtis of MPR; and the Epilogue After-Party with complimentary champagne, sumptuous desserts, and additional live music. Tickets now on sale, or click here for more information.
---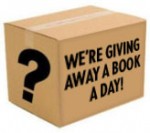 Today's winner: Neal Thao. (We'll be in touch via email, and arrange getting the book to you!)
Want your chance to win? Subscribe to our email to get news and program updates sent directly to your inbox, and be automatically entered to win.