Minnesota's Largest Open Book Club

First Tuesdays
(with some exceptions)
5:00 Social Hour
6:15 Discussion
With The Friends of the Saint Paul Public Library, moderator Jeff Kamin brings his unique take on a public book club show to Saint Paul every first Tuesday of the month. Kamin has taken the suburban book club tradition and put it in a public bar where people's opinions flow freely with a little "liquid courage." Even if you don't like the featured book, he "guarantees a good time at our entertaining discussions." All are welcome to try this moderated reinvention of the book club.
Winter (Oct-April):
The Happy Gnome
498 Selby Ave., Saint Paul

Summer (May-Sept):
Amsterdam Bar & Hall
6th & Wabasha, Saint Paul
---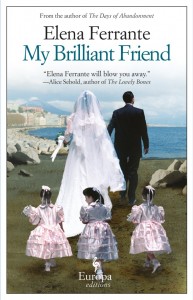 My Brilliant Friend – Neapolitan Novels, Book One
by Elena Ferrante
SPECIAL NIGHT:
Tuesday, July 19
A modern masterpiece from one of Italy's most acclaimed authors, My Brilliant Friend is a rich, intense, and generous-hearted story about two friends, Elena and Lila.
The story begins in the 1950s, in a poor but vibrant neighborhood on the outskirts of Naples. Growing up on these tough streets the two girls learn to rely on each other ahead of anyone or anything else. As they grow, as their paths repeatedly diverge and converge, Elena and Lila remain best friends whose respective destinies are reflected and refracted in the other. They are likewise the embodiments of a nation undergoing momentous change.
Through the lives of these two women, Ferrante tells the story of a neighborhood, a city, and a country as it is transformed in ways that, in turn, also transform the relationship between her protagonists. It is a meticulous portrait of two women that is also the story of a nation—and a touching meditation on the nature of friendship.
Learn more and add to calendar >>
---
Harry Potter and the Cursed Child – Parts I & II, by J.K. Rowling, Jack Thorne and John Tiffany
The Official Script Book of the Original West End Production (Rehearsal Edition)*
SPECIAL NIGHT:
Tuesday, August 16
Harry Potter and the Cursed Child, Parts I & II, is an original new story by J.K. Rowling, Jack Thorne and John Tiffany, accompanying the opening of a new play by Jack Thorne on July 30, 2016. Everyone will be able to delight in an entirely new chapter of the Harry Potter adventure—no matter how far away they are from the London stage—when the book is released on July 31.
The Cursed Child will tell the "untold part" of the boy wizard's story, promises the author, including the story of the lives of his murdered parents. It will pick up 19 years after Harry was last seen in Harry Potter and the Deathly Hallows, waving his two eldest children off to Hogwarts. While Harry grapples with a past that refuses to stay where it belongs, his youngest son Albus must struggle with the weight of a family legacy he never wanted.
Learn more and add to calendar >>
* The special rehearsal edition of the script book will comprise the version of the play early in the production's preview period and is therefore subject to being changed before the official opening. Previews of "Harry Potter and the Cursed Child" begin in May at London's Palace Theatre, with both plays set to open on July 30. The hardcover and ebook will go on sale at 12:01 a.m. on July 31. Subtext Books now taking advanced orders.
---