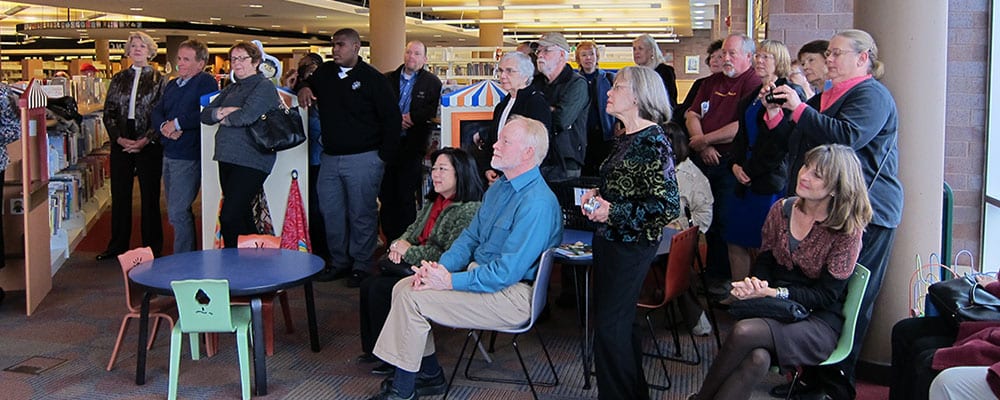 Saint Paul Public Library Installs New Public Art
The weather outside was unseasonably cold and gray, but inside Saint Paul Public Library's Rondo Community Outreach Library it was nothing but warm smiles and sunshine as dozens gathered on October 20, 2013 to celebrate the installation of "Alice's Storyteller Bench." The latest addition to the Library at a location known for its extensive public art, the bench was commissioned by retired librarian Alice Neve's husband, Leon, who wanted to give people an opportunity to help support the creation of a new work honoring the nearly lifelong career of one of SPPL's most beloved staffers.
Friends President Peter Pearson welcomed the crowd of approximately 5o family members, friends and community supporters, expressing thanks and recognizing donors who made the day possible, before turning it over to Leon Neve, who spoke at length about his wife's career and the joy and pride they both shared over the years of library and community service. Pearson then introduced the artist Seitu Jones, who unveiled the piece and described how the materials were selected to complement another major work commissioned by the library: the story tree and multicolored "kites" rising into the ceiling in the children's area.
Seitu Jones was among four local artists tapped to create custom installations when Rondo library was built and opened back in 2006. At 31,000 square feet, Rondo is the largest branch library in Saint Paul's system. In addition to a small business resource center, Rondo Library features adult literacy materials and services for new Americans, a homework center for teens, community meeting rooms, and an engaging and creative children's programming area.
In recognition of the diverse communities served by the library, Jones carved symbols into the bench which reflect the many cultures of the neighborhood. The artist is based in Saint Paul, and his sculptures are displayed at the Walker Art Center, the Minneapolis Institute of Arts, New York's American Craft Museum and the Philadelphia Institute of Contemporary Art, among other world-class institutions.
The retired honoree Alice Neve wrapped up the celebration, expressing her thanks to all in attendance. She thanked The Friends of the Saint Paul Public Library for serving as the fiscal agent for the fundraising campaign which resulted in the new installation. She also talked extensively about her appreciation for a job that brought with it so much meaning and so many cherished memories and friends, as well as her joy in being able to connect daily with people of all ages and ethnicities who share at least one thing in common: a love of reading and learning.
The new public art is installed at Rondo Community Outreach Library, 461 N. Dale Street, 55103. The library is open Mondays through Thursdays, 10 a.m. to 8 p.m.; Fridays and Saturdays, 10 a.m. to 5:30 p.m.; and Sundays, 1 to 5 p.m.