State Winners Announced in Annual Student Writing Contest
The Friends of the Saint Paul Public Library, as the home of the Minnesota Center for the Book, is pleased to announce the state-level winners of the 2015 annual national Letters About Literature Essay Contest, co-sponsored by the Minnesota Council of Teachers of English and Common Good Books.
52,000 adolescent and young adult readers nationwide in grades 4 through 12 participated in this year's Letters About Literature program, which encourages young people to read, be inspired, and write back to the author who has somehow changed their view of the world or themselves. The number of entries from Minnesota's students was 1,179, and 148 student letters made it through to the state round level of judging in the three levels of competition. For more information about the contest, national winners, and free teaching resources to guide students through the reader response and writing process, visit www.read.gov/letters/.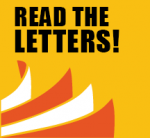 The winners of the Letters About Literature essay competition were selected on three levels: Level I – for grades four through six, Level II – for grades seven and eight, and Level III – for grades nine through twelve.
The winners are:
Level I
First place: Sara Nadian (Grade 6: Rush Creek Elementary, Maple Grove) Letter to Suzanne LaFleur, author of Love, Aubrey
Second Place (tie):
•  Dillon Kischell (Grade 6: Kellogg Middle School, Rochester) Letter to Ned Vizzini, author of It's Kind of a Funny Story; and
•  Jack Mapel Lentz (Grade 5: Visitation School, Mendota Heights) Letter to John Green, author of The Fault in Our Stars
Third Place: Peyton Lenz (Grade 5: St. Michael-Albertville Middle School East, St. Michael) Letter to Lauren Tarshis, author of the I Survived series
Level II
First Place: Soren Eversoll (Grade 8: Capitol Hill Magnet School, St. Paul) Letter to Arthur Conan Doyle, author of the Sherlock Holmes stories
Second Place (tie):
•  Elie Oxford (Grade 8: The Blake School, Hopkins) Letter to A. A. Milne, author of Winnie the Pooh; and
•  Samantha Stocking (Grade 8: The Blake School – Middle School, Hopkins) Letter to Joy Hensley, author of Rites of Passage
Third Place: Garrett Synstelien (Grade 7: Minnetonka Middle School West, Minnetonka) Letter to Dr. Seuss, author of Oh, the Places You'll Go
Level III
First Place: Taylor Ogren (Grade 12: Mahtomedi High School, Mahtomedi) Letter to Jhumpa Lahiri, author of The Namesake
Second Place: Sarah Hinrichs (Grade 12: St. Michael-Albertville High School, St. Michael) Letter to Emily Dickinson, author of Hope is a thing with feathers
Third Place: Anita Thammavongsa (Grade 12: St. Michael-Albertville High School, St. Michael) Letter to Hope Solo, author of Solo: A Memoir of Hope
About The Friends of the Saint Paul Public Library:
Currently celebrating its 70th year, The Friends is a nonprofit membership organization whose mission is stronger libraries for stronger communities. The Friends has a nonprofit consulting group, Library Strategies, that provides services to libraries and library organizations across the country and internationally.  As an influential voice for libraries, we will ensure the Saint Paul Public Library and our partner libraries are vital centers of engaged, educated and diverse communities. The Friends also leads the Minnesota Book Awards and serves as the Minnesota Center for the Book – the state affiliate of the National Center for the Book at the Library of Congress.