Finance & Commerce names Highland Park Community Center one of 2014's Top Projects
By Frank Jossi, Finance & Commerce, July 29, 2015
The Highland Park Community Center is a beacon of activity overlooking Highland Village in St. Paul. The modern window-filled structure — with a perforated metal sign depicting Highland Park's place on the Mississippi River — is hard to miss on a drive up Ford Parkway.
Lawal Scott Erickson fundamentally transformed the building, mainly the city library, in several ways. First, it replaced an underground parking lot with a first-floor entrance, check-out area, teen center and conference room.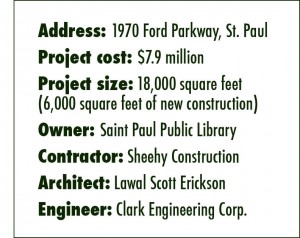 "That was a really big change," said St. Paul Public Library director Kit Hadley. "People told us they couldn't even find the door of the old building."
The architecture firm's education and public sector director Jennifer Anderson-Tuttle considers the "re-imagining" of the parking garage as an entrance as the key to the entire project. "What was missing was a connection between Ford Parkway and the fabric of the neighborhood and the library," she said. "The entrance and first floor created that connection."
The first floor's teen center follows the library's policy to create space specifically for that demographic. The nearby express center offers a convenient spot where patrons can unload books and materials and pick up items they reserved without having to enter the main upstairs library, Anderson-Tuttle said.
The sprawling second-floor library has an open floor plan with two conference rooms for community meetings. "We had heard community meeting rooms were really needed in that neighborhood and these are in locations where they can still be used even when the library is closed," Hadley noted.
To accommodate the digital age, the library offers 20 computer terminals and a shared table where patrons can plug in devices.  Five private study rooms rarely go unfilled, said Hadley.  Large windows deliver natural light to a children's area with birdhouses created by Amanda Lovelee.
The results still impress Hadley, who admires the architect's attention to details and budget. "I think the design is brilliant," she said. "I admire their creativity, design and their business skills."
Though the construction project is finished, the capital campaign to build the library is still in progress. You can be a part of it. Learn how… >>