The Friends of the Saint Paul Public Library Welcomes Beth Burns as New President
Burns will officially begin leadership of the organization January 1, 2017.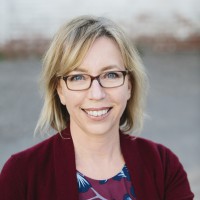 SAINT PAUL,MN, November 10, 2016 —The Friends of the Saint Paul Public Library announced that, after a national search, its board has selected Beth Burns as the organization's new president. Beth, who most recently served as Vice Pesident for External Relations at the Minnesota Zoo, will join the staff in early December and officially assume the role on January 1, 2017.
Beth comes to The Friends with a deep understanding of nonprofits and public engagement. In her role at the Zoo, she oversaw a division that included the zoo's marketing, sales, public relations, membership, guest relations, government affairs, and education programs. As part of that role Beth was responsible for engaging 1.3 million annual visitors, 43,000 member households, and more than 500,000 education program participants.
Beth brings not only a proven track record of effective leadership, but also extensive knowledge of fundraising and advocacy. Prior to joining the zoo, she served as the Executive Director for Lutheran Music Program, where she was the lead fundraiser and led the planning and implementation of the annual fund. She also facilitated the repayment of more than $600,000 in debt while simultaneously growing the annual fund by 28% during the depths of the recession.
She has also held various leadership roles in touring, public affairs and education at the Guthrie Theater and has worked for MacPhail Center for Music, the University of St. Thomas, and the Children's Theatre Company.
Beth's commitment to the good of the community goes beyond her professional career to her volunteer engagement. She is a founding board member and officer for the St. Paul-based Minnesota Music Coalition; she served for 17 years on the board of Minnesota Citizens for the Arts, and is also a former trustee of 15 Head Theatre Lab and the Minnesota Association for Arts Educators.
Beth received her undergraduate degree in creative writing and theater communications from St. Olaf College and attended graduate school at the University of St. Thomas. She has lived in St. Paul with her husband, Bob, for more than 22 years.
"I know the role that libraries have played in my own life. Reading has provided me with profound moments of education and inspiration throughout my life," says Beth. "I am excited to share my passion for the written word and serve an organization that is so deeply and organically embedded in every corner of the city I love."
"We were impressed by Beth's leadership record and her extensive experience with fundraising and advocacy. She has the combination of skills the board was looking for, and we are confident that she is the right person to guide The Friends into the future," says Board Chair Joe Bagnoli.
Stay tuned for more opportunities to get to know Beth.