36 Books in 36 Days: I Live Inside
Each day we highlight one of the 36 finalists leading up to the April 8 announcement of the Minnesota Book Awards, presented by Education Minnesota.  Today we feature 2017 Memoir & Creative Nonfiction finalist: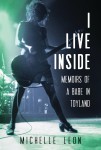 I Live Inside: Memoirs of a Babe in Toyland by Michelle Leon
Published by: Minnesota Historical Society Press
Category Sponsor: Faegre Baker Daniels
Babes in Toyland burst onto the Minneapolis music scene in the late 1980s and quickly established itself at the forefront of punk/alternative rock. The all-female trio featured a shy, seventeen-year-old Jewish teen from the suburbs on bass guitar—an instrument she had never played before joining the band.
Over the next few years, Michelle Leon lived the rock-and-roll lifestyle—playing live concerts, recording in studios, touring across the United States and Europe, and spending endless hours in stuffy vans, staying in two-star motels, and sleeping on strangers' couches in town after town. The grind and drama of life in the band gradually wore on Leon, however, and a heartbreaking tragedy led her to rethink her commitment to the band and the music scene.
Leon's sensitive, sensory prose puts readers right on stage with Babes in Toyland while also conveying the uncertainty, vulnerability, and courage needed by a girl who never felt like she fit in to somehow find her place in the world.
Michelle Leon is a freelance writer, musician and teacher for Saint Paul Public Schools. She was the bass player for the influential punk band Babes in Toyland from 1987 to 1992 and again in 1997. Michelle holds an MFA in Creative Writing from Goddard College. Her work has appeared in City Pages, the music essay compilation The First Time I Heard David Bowie, Saint Paul Almanac, VitaMN, and other publications. She lives on the east side of St. Paul with her husband, two children, and three dogs.
This is her first book.
Rave Reviews:
"Over a little more than 200 pages, Leon's short, self-contained chapters, often less than a page, are the opposite of diary entries: considered, honed, until every word has its own reason for being where it is."—Pitchfork
"It's empowering to witness a women telling her own story in her own way, and Michelle Leon has done it tremendously. — Andrea Swenson, The Current
"A stunning, poetic telling of her experiences as a Babe in Toyland. An impressive work. It's hard not to hold this writing up against Patti Smith's Just Kids. This reader likes the writing and story of I Live Inside so much better. A feminist oeuvre as much as a musician's tale, her short chapters work effectively for the mosaic of her experiences. She especially captures well the power plays in a girl's and a woman's friendships." — Minnesota Book Awards Judge
Beyond the Book:

Interview: Michelle Leon discusses her book at the 10,000 Books Blog.
Audio: "Michelle Leon: Inside the Alt Rock Explosion" on KFAI
Article: From bassist to author, Michelle Leon writes her Babes in Toyland memoir, by Chris Riemenschneider, Star Tribune