Each day we highlight one of the 36 finalists leading up to the April 8 announcement of the Minnesota Book Awards, presented by Education Minnesota. Today we feature 2017 Children's Literature finalist: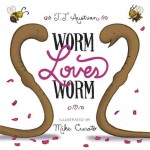 Worm Loves Worm by J.J. Austrian, illustrated by Mike Curato
Published by: Balzer + Bray/HarperCollins Publishers
Category Sponsor: Books For Africa
When a worm meets a special worm and they fall in love, you know what happens next: They get married! But their friends want to know—who will wear the dress? And who will wear the tux? The answer is: It doesn't matter. Because worm loves worm.
"Curato's spare but sure silhouetted images and Austrian's straightforward text are a perfect match to deliver the simple story of two characters who just want to declare their love and commit to each other. With patience and good cheer they accept the various matrimonial trappings offered to them by their well-meaning ­insect friends, like a wedding party, a cake and rings — even though they have no fingers. The all-embracing spirit of the story is best represented by the worm couple's lack of regard for traditional wedding garb: Each wears bits and pieces of a tuxedo and a wedding dress during the ceremony." – The New York Times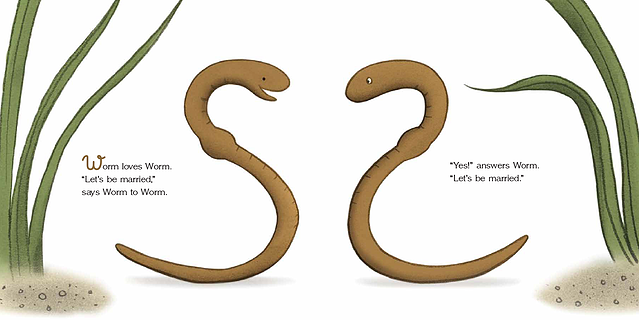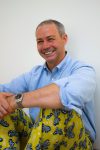 About the Author:
J.J. Austrian grew up in Greenwich, Connecticut, graduated from Bard College, and worked in Los Angeles before returning to the East Coast, where he met his wife at a Halloween party. She married him a few years later, in spite of his costume choice. After moving to Minnesota so that they could be closer to family, J.J. earned his MFA in Creative Writing for Children and Young Adults at Hamline University. Worm Loves Worm is his first picture book. Follow J.J. Austrian on Twitter.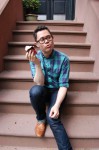 About the Illustrator:
Mike Curato is an illustrator, author, graphic designer and cupcake connoisseur. He is the creator of the popular Little Elliotseries. Mike has a range of creative experience, from layout, packaging, logos and branding, to drawing, painting, and digital illustration. He and his husband, Dan, were married in a very wormy wedding. They live in New York City.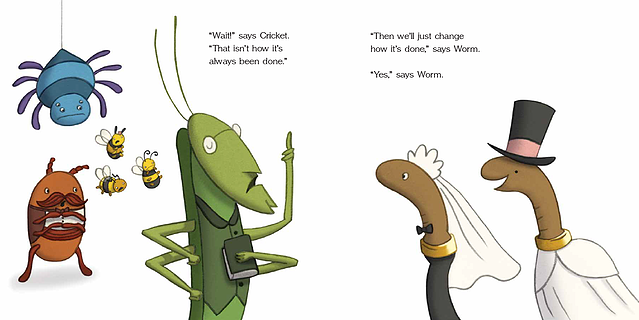 Rave Reviews:
"Austrian and Curato turn the simple wedding of two worms into a three-ring circus that slyly turns the whole controversy over same-sex versus heterosexual marriage on its head… As in life, love conquers all."  –Kirkus Reviews (starred review.)
"How do you explain a revolution to a young audience? This book is a terrific start…Debut author Austrian proves that it's possible to be silly and incisive at the same time, while Curato (the Little Elliot books) works in a stripped-down style that subtly reinforces the 'all you need is love' message."  –Publishers Weekly (starred review)
Beyond the Book:
Austrian and Curato speak with Matthew Winner of the All The Wonders Podcast.
J.J. Austrian joins the Lu and Bean Podcast live from the Minnesota Children's Book Festival.